Nearly 70 percent of the new features in Vectorworks 2017 came directly from user requests. (Many were previewed during the Vectorworks Design Summit, held earlier this year.) While some of the updates catch the BIM software, developed by Columbia, Md.–based Vectorworks, up to the capabilities of its competitors, others appear to be first of their kind. Likewise, the latest edition advances standard tools that reflect better how design teams work today, like the ability for project managers to assign users different roles for a shared building model. Below I review some of the new features in Vectorworks 2017.
Resource Manager
In order to draft and model efficiently, one must have access to the right tools at the right time. Vectorworks 2017's Resource Manager offers a Microsoft Windows File Explorer–based interface from which users can navigate to resources, such as line types, hatches, and wall styles, from multiple points in the program. They can then drag-and-drop these resources to their current project, create their own resource libraries, and define office-wide libraries. User can also access subscription-only libraries through the Resource Manager.

Door and Window Styles
What makes BIM worthwhile is that it allows users to define standard objects and their properties. Along with wall and floor styles, Vectorworks 2017 allows door and window styles as well. Within the styles, parameters such as width, height, and material can be set as "by-style" or "by-instance": by-style parameters are set across all elements of that style, while by-instance parameters can be adjusted individually.

Interior Elevations
Customizing views is common in BIM. Vectorworks 2017 lets users to define multiple interior elevation viewports with the aptly named "Create Interior Elevation Viewport" tool. This particular type of view uses a room's walls, floor, and ceiling to define its boundaries. Once created, it is linked to its floor plan marker so if the viewport is moved to a new sheet, for example, the corresponding view marker is updated to reflect the new sheet number.
Project Sharing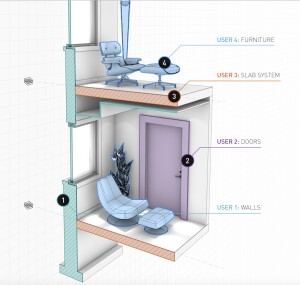 The previous edition of Vectorworks let multiple users work simultaneously in the same file, but this newest edition features several enhancements, most of which came from user feedback. Users can now check out individual layers as well as specific elements to avoid duplicating efforts. Elements can be color-coded to indicate the user who has checked them out.
Each user can also be assigned a specific permission level, such as read only, layer-restrictive, project (which gives one full control of the model), and administrative, which includes the ability to add and edit user permissions.
Vectorworks 2017 also provides cloud storage integration so models can be shared directly from Dropbox, OneDrive, Google Drive, and Box.
Data Visualization
This feature allows users to differentiate objects visually based on their properties, or characteristics. For example, a floor plan can display rooms color-coded by net area or by phase. Settings can be changed per viewport so you can present multiple visualizations of the same base view. These visualizations can be customized to incorporate specific properties, such as color fill, line type, and line weight.

Slab Drainage
Providing adequate drainage for concrete slabs or flat roofs isn't glamorous work, but it is critical as anyone who has encountered water infiltration can attest. In Vectorworks 2017, after users place drains on a slab plan, the program's slab drainage tool automatically calculates the slopes to meet drainage requirements, adds slope symbols, and tags each individual drain with a symbol. If a drain moves, the slopes update accordingly. The tool includes a smart error-checking feature that verifies whether the drainage design meets the requirements for minimum slope, slab thickness, and curb height.

Structural Objects
Structural objects have also become smarter in Vectorworks 2017. Beams and columns now link to adjacent structural members. If a column moves, the connected beams will adjust their position and dimensions accordingly. This feature has been available in other BIM software so it was due time for Vectorworks to follow suit.
Native Revit Support
As the "one BIM to rule them all" ideal becomes increasingly unrealistic, interoperability between software platforms becomes more important. Vectorworks 2017 takes a huge leap forward in this regard with its Autodesk Revit import feature. Users collaborating with firms using Revit or wanting to make use of Revit-based manufacturer content can now import native Revit RVT and RFA files.
This feature is provided via the Open Design Alliance's Teigha BIM toolkit. The Alliance spent three years reverse-engineering the Revit file formats. Vectorworks 2017 is one of the first BIM platforms to use Teigha BIM to provide Revit interoperability.
Enhancements to Graphics
Vectorworks 2017 should help architects produce high-quality graphics and clear drawings. Two-dimensional symbols can now have drop shadows, which can create a greater sense of depth in the drawing; for example, envision drop shadows with tree symbols on a site plan.
The program can also read the transparency and alpha channels from imported images to allow for instant silhouetting of objects. This setting can be controlled on an image-by-image basis.
Vectorworks 2017 also includes tighter integration with Cinema 4D, a rendering software from Maxon. Cinema 4D textures can be imported directly into Vectorworks, while Vectorworks models can now export directly to Cinema 4D and be edited in the program.
As architects move toward integrating virtual reality into the design process, the Export Web View feature generates a web-based immersive interface for Vectorworks models. Once a user exports a 3D model to Vectorworks' WebView cloud service, they can view the model online using the generated URL and a standard web browser on any computer, tablet, or smartphone.

All in all, Vectorworks 2017 provides a solid tool set that can handle the demands of contemporary architectural practice. With its innovative new features and much welcomed improvements, as well as the company's emphasis on listening to its clients and users, the software provides a lot of value for almost half the price of competing packages by Autodesk or Bentley Systems.