Continuing its longstanding role involving the renovations of New York City's James A. Farley Post Office, locally-based firm Skidmore, Owings & Merrill (SOM) released renderings of its updated plans turn the 1913 Neoclassical building into a modern train hall. Sitting adjacent from Pennsylvania (Penn) Station, along Eighth Avenue in Manhattan, the new developments to the nearly vacant structure will help to anchor the $1 billion project slated for the intercity railroad station. The new construction will increase the lobby space by an estimated 50 percent, and help to alleviate the traffic of Amtrak, Long Island Rail Road, and New Jersey Transit riders that arrive into the already crowded station, according to SOM's press release.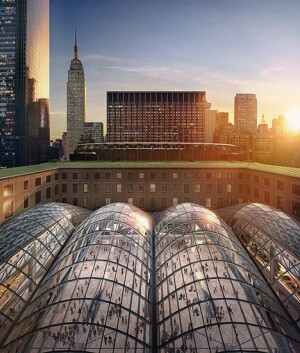 In an effort to reestablish the grandeur regraded with the former Penn Station, designed by legendary American firm McKim, Mead & White in 1913 and demolished in 1963, SOM's answer is integrating an atrium. The glass and steel canopy will be suspended above the new boarding course, which formerly served as the mail sorting room. To integrate retail and dining amenities, another atrium will be built at mid-block, between Eighth and Ninth Avenues, that will encompass another central passageway extending from 31st to 33rd Street. For this portion of the project, construction has already begun to reduce the amount of traffic coming from the Long Island Rail Road through the new West End Concourse, and is expected to open in Sept. 2016.
The landmark building will be renamed the Daniel Patrick Moynihan Station, honoring the former New York senator who originally proposed to restore and modernize it in the early 1990s. Construction will be complete by 2018.