Jane Thompson, the designer, editor, and urban planner known for founding I.D. magazine, reviving beloved public spaces including Boston's Faneuil Hall and Chicago's Navy Pier, and serving an ardent advocate for women in design, died on Aug. 23.
After studying fine and applied arts at Vassar College and the New York University Institute of Fine Arts, Thompson (then Jane Fiske McCullough) became the acting assistant curator at the Museum of Modern Art's department of architecture, in New York, where she worked alongside Philip Johnson, Ada Louise Huxtable, and Alfred Barr Jr. She then took on the role of architecture editor at Interiors magazine, and then became the founding editor of Industrial Design magazine in 1954. The beloved magazine, later known as I.D. and then International Design magazine, ceased print publication in 2010.


In the 1960s, she began researching the Bauhaus and its educational methods, interacting frequently with the German school's founder, Walter Gropius, and instructors, including Marcel Breuer. Through Gropius, she met architect Benjamin "Ben" Thompson—Gropius and Thompson were partners at The Architects' Collaborative, in Cambridge, Mass.—whom she would marry in 1969. (Ben Thompson died in 2002.)
She joined Design Research (D/R), a strongly postwar retail venture founded in 1953 by Ben Thompson. The company grew from a single location in the city to several stores around the country, bringing homewares by then-little-known Scandinavian designers and brands like Alvar Aalto and Marimekko to the U.S., popularizing the aesthetic in Modern residential design (albeit facing scorn from some corners of the architectural profession). In 1969, the landmark glass-and-concrete D/R building in Harvard Square opened (it was the second location of the retail store). Though D/R shuttered in 1978, its legacy is reflected in the success of present-day retailers Design Within Reach (which was recently acquired by Herman Miller) and Crate and Barrel.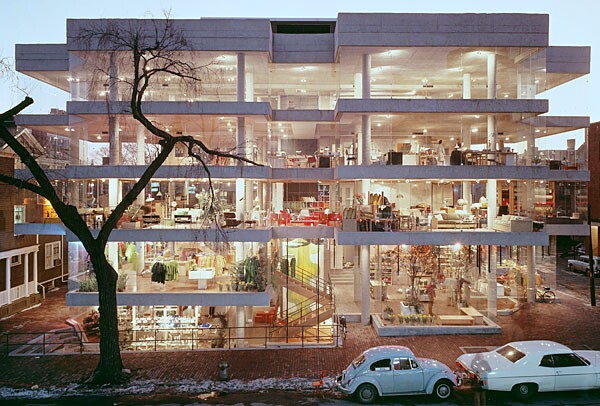 Thompson became the partner for planning at Benjamin Thompson & Associates (BTA), founded in Cambridge in 1966. The firm's work included the revival of Boston's Quincy Market and Faneuil Hall Marketplace (1976), the Grand Central Business Improvement District, in New York (1987), and Chicago's Navy Pier (1995). BTA's revitalization of Faneuil Hall would receive the AIA's Twenty-Five Year Award in 2009.
Most recently, Thompson was principal at her own planning and preservation firm, Thompson Design Group (TDG), founded in 1994 in Boston. She had not been active at the firm since 2015.
An active and longtime participant in the International Design Conference in Aspen (IDCA), Thompson was a co-author of the books Made with Paper (Museum of Contemporary Crafts of the American Craftsman's Council, Container Corp. of America, 1967) and Design Research: The Store That Brought Modern Living to American Homes (Chronicle Books, 2010), the latter of which was co-authored by architecture critic and journalist Alexandra Lange, who told ARCHITECT she remembers Thompson fondly:
"The whole time we were writing the book, she was doing planning for multiple new projects in different cities. She was always getting calls, and she had a million notes in her many Marimekko tote bags. In every conversation, some amazing fact would come out. 'Oh yes, I took Ada Louise Huxtable's job at MoMA and the other assistant curator was Mary Barnes [whose husband and collaborator was Edward Larrabee Barnes]. Sandy [Alexander] Calder made me this brooch and it cost an entire week's salary—$25! You're writing a story about Governors Island? I did a plan for the island a decade ago.' She seemed to be, and have been, everywhere, and she was always ahead of and engaged in her time. Any one of her careers, as an editor, as a planner, and more recently as an advocate and historian, would have been enough to make her a legend."
Among her many accolades, Thompson received the Institute Honors for Collaborative Achievement award from the AIA in 1993, and the Personal Recognition Award of the Industrial Design Society of America in 1996.
A proponent of women in design, Thompson didn't shy away from drawing attention to the need for more female voices in the male-dominated profession. In 2002, she and her husband were knighted by the Finnish government for their work promoting that country's designers. During the award ceremony, her nickname "Sir Lady Jane" was coined, as she told Boston magazine in 2014:
"The ambassador for Finland came to New York and we had a ceremony and got our medals. They don't have all these gender hang-ups like we do. I didn't ever ask if there was another woman in the Finnish knighthood, but I said, 'I don't want to be the wife of a knight. I want to be a knight knight.' Someone came up and said, 'Sir Lady Jane. That makes you both.' "
In 2010, Thompson received the Lifetime Achievement Award of the Cooper Hewitt, Smithsonian Design Museum. Upon learning she was the second woman to receive the honor (industrial designer Eva Zeisel won in 2005), she said in her acceptance speech: "There was a first. … [T]he trend is moving in this direction, and women are genuinely being rewarded."
This article has been updated since first publication.