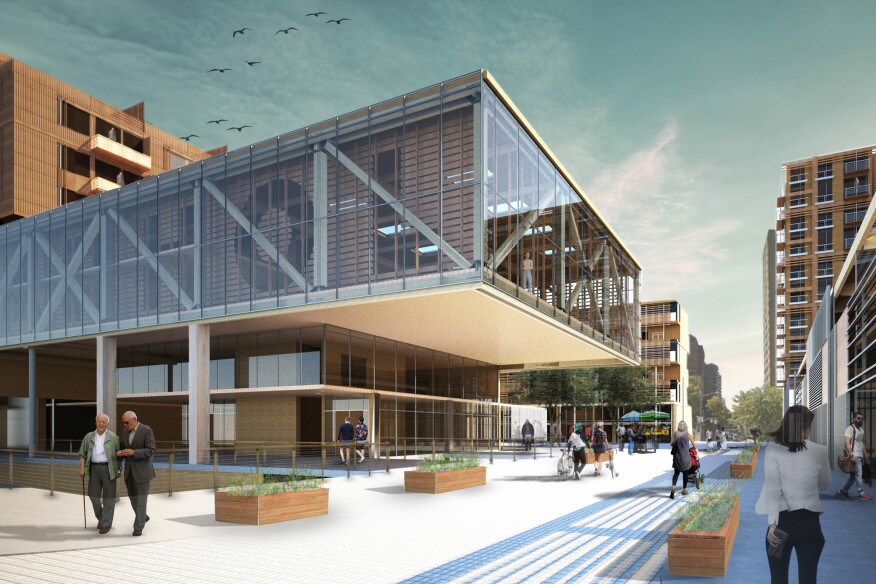 The potential of mass-timber for mid- and high-rise construction is becoming clearer. Two towers using the material are poised to rise in New York and Portland, Ore., and will be the tallest mass-timber buildings in the U.S.; both are winners of the U.S. Department of Agriculture's Tall Wood Building Prize Competition. There are bills in the both the U.S. House of Representatives and the Senate calling for more research and development around this construction method. The National Building Museum, in Washington, D.C., is planning an exhibition showcasing the emerging industry and its design potential. And, most recently, the Association of Collegiate Schools of Architecture, the School of Constructed Environments at the Parsons School of Design, and the Binational Softwood Lumber Council have awarded five student teams in their 2015-2016 Timber in the City: Urban Habitat Competition, which asked participants to design a mid-rise, mixed-use complex containing affordable housing, a museum, and a new home for the Essex Street Market on an existing (and recently planned) site in Manhattan's Lower East Side neighborhood.
From the competition description:
"In 1967, New York City leveled 20 acres on the southern side of Delancey Street and removed more than 1,800 low-income largely Puerto Rican families, with a promise that they would eventually return to new low-income apartments. Competing forces within the neighborhood and the development community long debated whether the area should be used to develop affordable or market rate housing, for commercial or cultural uses, or all of the above. This debate was waged in the community halls of local public school auditoriums and other city meeting places, in newspaper columns, coop board meetings, and at private strategy sessions in individual homes, and eventually a resolution was reached, leading to the currently planned Essex Crossing development.
"The Essex Crossing development as currently planned, however, could be criticized for following a larger bulk zoning than ideal, as well as for not requiring the highest degree of innovative and environmentally proactive construction and energy use standards."
The competition challenged participants to rethink this site with living, working, dining, retail, and public recreation spaces—all while incorporating new modes and methods of wood construction.
The competition was judged by: Jennifer Cover, national director of the architectural and engineering solutions division at WoodWorks, in Washington, D.C.; Dana Getman, AIA, associate principal at SHoP Architects, in New York; Susan Jones, FAIA, founder of architectural firm Atelierjones, in Seattle; Alan Organschi, design principal and partner at Gray Organschi Architecture, in New Haven, Conn.; and Jeff Spiritos, principal of Spiritos Properties, in New York.
The following five projects were selected from entries by more than 350 students across 52 colleges and universities. The winning projects will be on display at the Greenbuild International Conference and Expo, in Los Angeles, from Oct. 5 to 7, 2016.

First Place: Stack Exchange, University of Washington
Project team: Buddy Burkhalter, Mingjun Yin, and Connor Irick (students); Richard Mohler and Elizabeth Golden (faculty sponsors)
Stacked volumes and a core atrium emulate the method of drying out lumber, resulting in voids that allow daylight and natural ventilation in this mixed-use development concept. Double- and triple-height spaces make up the ground-floor public program, from which bars of housing rise and are alternately stacked at 90-degree angles. The market and museum are located at opposite ends of the site. The building's structure features cross-laminated timber (CLT) box beams—each residential space comprises a single box beam stacked in a modular assembly. Load-bearing walls at the intersection of the residential bars will support splicing over long spans, while sheer panels resist lateral and wind loads.
Second Place: Hybrid Domains, University of Oregon
Project team: Greg Stacy, Benjamin Wright, Alex Kendle, and Michael Meer (students); Judith Sheine and Mark Donofrio (faculty sponsors, University of Oregon) with Mikhail Gershfeld (faculty sponsor, California State Polytechnic University, Pomona)
This proposal uses an array of structural wood products in a program that weaves together the building areas for housing, the market, and the museum where their programs overlap. That includes glulam post-and-beam construction for the residential buildings with CLT shear-walls; a two-story, floor-to-ceiling truss system that suspends the museum's ground floor over the auditorium; and a prefabricated system of laminated veneer lumber panels connecting three-pinned moment frames for the market.

Third Place: Grid + Grain, University of Washington
Project Team: Everardo Lopez, Lauren McWhorter, and Jesce Walz (students); Richard Mohler and Elizabeth Golden (University of Washington)
This concept creates a mini-neighborhood of streets, alleys, and public spaces emphasizing pedestrian passage and public space. The streets are oriented north to south while the gathering spaces run east to west to unite the site. The proposal calls for using the existing Market and Delancey Streets as hard boundaries, with new paths imagined for easier movement within the site. The site comprises four residential towers with CLT structural members, as well as townhouses, live-work spaces, a yard, communal rooftop terraces, and more.
Honorable Mention: Within a Timber Glade, Philadelphia University
Project Team: Ross Silverman, Kelly Hayes, James Ko, and Caitlin Powell (students); Lisa Phillips, Li Hao, and Edgar Stach (faculty sponsors)
The proposed design of this three-story, open-air forum and site re-imagines the transportation networks of New York's Lower East Side as public spaces, featuring planes above and below street level that offer gradations of engagement for occupants. A wood-framed storefront glazing system defines the project's boundary with the surrounding urban environment while interior-facing, cedar louvered façades welcome natural light in the winter and reduce solar heat gain on the adjoining building during the summer.
Honorable Mention: The Delancey Cut, University of Washington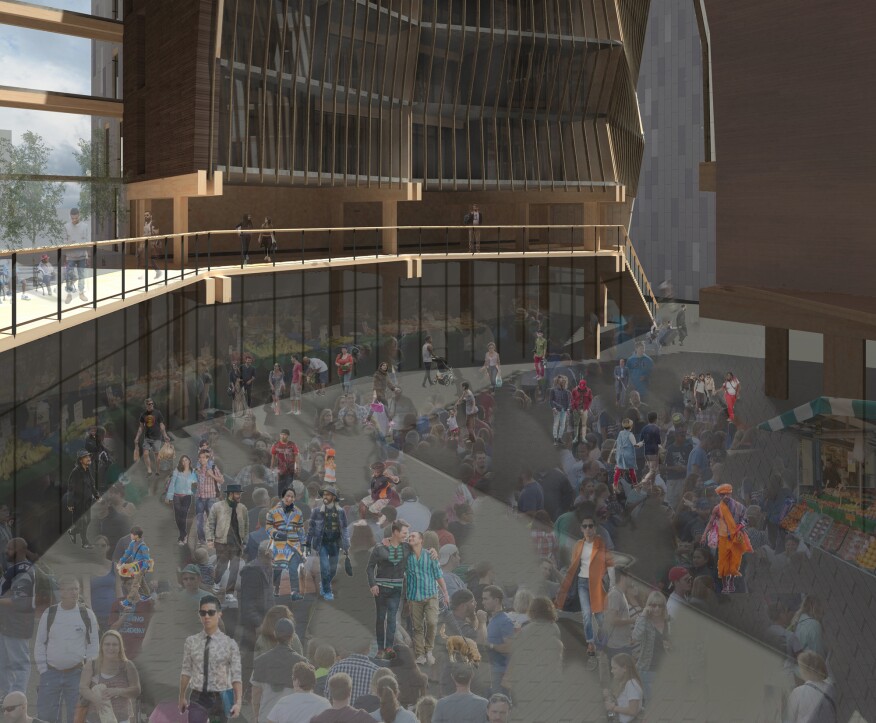 Project Team: Zachary Jorgensen, Elizabeth Kelley, and Charles Landefeld (students); Richard Mohler and Elizabeth Golden (faculty sponsors)
A proposed break in the otherwise wrapped site reinterprets kintsugi, the Japanese concept of making fragments whole again, bridging transit points on Delancey and Essex Streets. The team located retail and dining around the site's border, while the market makes up the lower level of the open public passageway and a faceted interior brings daylight and natural ventilation into the space. Meanwhile, an elevated boardwalk offers access to the museum and a rooftop plaza. Housing on the site extends from a 30-foot bay with courtyards offering privacy, a contrast from the activity of the site's public spaces.
An earlier version of this article misidentified images associated with the Honorable Mention winners. ARCHITECT regrets the error.