On Earth Day, The American Institute of Architects announced the winners of the 2022 COTE Top Ten Awards, who have been recognized for their significant achievements in advancing climate action. Scroll down to see the project galleries for the 2022 winners.
"We were looking for things that can spark change," says COTE Top Ten Awards jury chair Margaret Cavenagh, AIA, a design principal at the Chicago headquarters of Studio Gang.
Established in 1997 by the AIA Committee on the Environment, the annual awards program celebrates 10 projects that exemplify the integration of design excellence and environmental performance. Entrants to the COTE Top Ten Awards are evaluated against AIA's Framework for Design Excellence, which comprises 10 principles to help architects achieve projects that are zero-carbon, equitable, resilient, and healthy.
This year's winners are located across the U.S., from San Francisco to Boston, Illinois to Louisiana, and include a children's museum, an art center, a library, two K-12 projects, a university complex, a public works building, a nonprofit headquarters, affordable housing for veterans, and an office building.
"The winning projects were sensitively designed around the communities that were occupying and using them," Cavenagh says. "We were particularly interested in building reuse and reinvention; which buildings saw a new life and which buildings were rooted in local culture through inclusive, accessible, and attainable design."
Four of the projects used renovations and additions. "The most sustainable method is reusing an existing building," Cavenagh says.
The jury was excited by the range of typologies and geographies represented, Cavenagh says, and the cohort of winners demonstrated a commitment to community and the local region, as well as designing for integration, equity, change, and ecosystems. Cavenagh noted that several of the projects this year are located in places with more extreme climates, or that are exposed to more severe impacts of climate change, such as Iowa, Massachusetts, and the Southeast.
She points to the examples of Louisiana Children's Museum by Mithun and Waggonner & Ball in New Orleans and the Iowa City Public Works building by Neumann Monson Architects. For the museum, designed for a post-Hurricane Katrina world, Cavenagh says the designers engaged the museum users, students and visitors, with ideas of water use and adaptive resilience, while also siting the building in a less dense neighborhood where children could play outside and where, inside, "kindows" created nooks where they could still connect to the environment.
At Iowa City Public Works, Cavenagh says the designers created an elegant solution for building that not only had to provide office space for public employees, but must house equipment like snow plows and skid-steer loaders. "They elevated a humble project into a beautifully lit building that would be lovely to work in," she says.
In trying to achieve sustainability goals, the efforts ranged from the heroic to small-scale, Cavenagh says.
"Some were executed with very tight budgets, but they still succeeded in completely thoughtful, beautiful, and sustainable work," Cavenagh says.
The jurors also designated two of this year's winning projects—the Lick-Wilmerding High School Historic Renovation & Expansion in San Francisco, by EHDD, and the Louisiana Children's Museum—as Top Ten Plus recipients in recognition of "their exceptional post-occupancy performance data," according to the same AIA release.
In addition to Cavenagh, this year's jurors included Angela Brooks, FAIA, managing principal of Brooks + Scarpa, in Los Angeles; Nakita Reed, AIA, associate at Quinn Evans, in Baltimore; and Z Smith, FAIA, a principal and director of sustainability at Eskew Dumez Ripple in New Orleans.
COTE and the Association of Collegiate Schools of Architecture have also selected the COTE Top Ten for Students, honoring exceptional student design projects showcasing innovation in sustainability. View the winning designs on the ACSA site.
The 2022 COTE Top Ten Winners
663 South Cooper, Memphis
Archimania
Jury Comment: "A humble building but not a mundane one, highlighting all the elements, while not being over the top. Showing great work on a modest budget, this project has a mission beyond property line: a catalyst for a carbon-neutral corridor and a notable example for other cities and communities."
---
Edwin M. Lee Apartments, San Francisco
Leddy Maytum Stacy Architects, Saida+Sullivan Design Partners
Jury Comment: "A commendable example of high-performance levels with a design that allows the ground floor space to flow from the street through the community to the courtyard. The great accessibility of the courtyard creates a space where people of all abilities can enjoy. This building gives the people who live here a sense of dignity. Every city should have several buildings like this."
---
Iowa City Public Works, Iowa City
Neumann Monson Architects
Jury Comment: "A building that consolidates civic functions but is also a gift to the city as well as to those who work in it. It is architecture at its best and manages to do that on an incredible budget. Public art for public infrastructure with consolidating their public functions, creating art that people use. This is a beautiful project and an example for other cities."
---
King Open/Cambridge Street Upper Schools & Community Complex, Cambridge, Mass.
Arrowstreet, William Rawn Associates
Jury Comment: "This complex building design makes the case for communities who aren't growing geographically on how to provide a more intense and rich set of resources. Powered through integration and multiple uses of social infrastructure, this complex hosts not just the instruction of children, but a resource for the community. Despite the the project having more intense use than traditional schools, the energy use is exemplary."
---
Knox College Whitcomb Art Center, Galesburg, Ill.
Lake|Flato Architects
Jury Comment: "This is a traditional form reimagined in a unique and refreshing way. By using a economical steel frame and reusing finishes, they made something special, taking a brown field and restoring the natural ecology, done beautifully."
---
Lick-Wilmerding High School Historic Renovation & Expansion, San Francisco
EHDD
Jury Comment: "This project beautifully demonstrates how you can restore and renovate existing buildings, taking existing structures and flipping them to be extroverted and embracing street culture. Lick-Wilmerding shows how historic buildings can be net zero; [these two things are] not mutually exclusive. The project does not feel massive, it has a good scale, manipulating the program massing to fit within its urban neighborhood."
---
Louisiana Children's Museum, New Orleans
Mithun, Waggonner & Ball
Jury Comment: "This project exemplifies a resilient way of living with water in a place that is continuously challenged by its proximity to it. The project design finds a way to be simultaneously immersed in a natural setting while being in a part of a city. The design does everything: being a modern vernacular form that is spatially rich and meets the triple bottom line of social well-being, environmental health, and a just economy."
---
Meyer Memorial Trust Headquarters, Portland, Ore.
Lever Architecture
Jury Comment: "Recognizing that this building is providing a gathering space of significant scale that is also inspiring in and of itself while observing other structural systems, this project provides positive transformation without gentrification, being a building of the community. The development through this engagement process has led to spatially detailed, well-executed spaces throughout the building."
---
Roxbury Branch of the Boston Public Library Renovation, Boston
Utile
Jury Comment: "Filled with light, this renovation shows that existing buildings that are under-loved can be transformed into a public space for a community who deserves it. This project is reinventing the typology by changing the inwardly focused, cold, dark Brutalist building and connecting it to the community with grace and elegance. Both the economy of materials used and incorporation of additional programs represent a change that wouldn't have occurred years ago."
---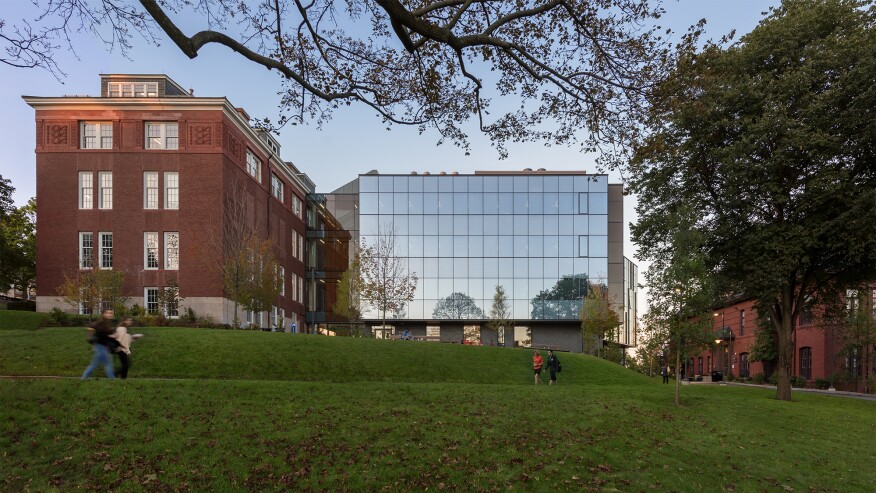 Tufts University Science and Engineering Complex, Medford, Mass.
Payette
Jury Comment: "This is a great example of how architects and designers can educate clients and create better buildings. Designers collaborated with the clients to save the existing building, create a new building, adaptive reuse and new. The dialogue between new and existing buildings are richer by their adjacency. One of multiple examples of where existing buildings have been transformed with the same level of energy performance of new buildings, showing that you do not have to knock things down to make them better."
---
See ARCHITECT's coverage of past COTE winners here.