Payette has been selected as the 56th recipient of the American Institute of Architects' Architecture Firm Award, the pre-eminent honor bestowed to a firm by the AIA each year. Founded in 1932 by industrial engineers Fred Markus and Paul Nocka, the Boston firm received its current moniker in 1974, nine years after the then-33-year-old Tom Payette, FAIA, was named president. Now presided over by Kevin Sullivan, FAIA, the approximately 160-person office is known in the industry for its technical expertise and research, as well as its predilection for pragmatic, high-performance architecture that prioritizes design.
"The importance and contribution here of Payette is that they are today taking some of the most energy intensive and technologically challenging building types we have to new levels of design and integrated performance," wrote Stephen Kieran, FAIA, partner of Philadelphia firm KieranTimberlake, in a nomination letter. "The breadth and depth of this transformation position Payette as a model for future practice."
Among Payette's portfolio of projects—predominantly healthcare, science, and academic facilities—is the Milken Institute School of Public Health at George Washington University, in Washington, D.C.; Grainger Hall: Nicholas School of the Environment at Duke University, in Durham, N.C.; the Biosciences Research Building at the National University of Ireland, in Galway, Ireland; and the forthcoming Fifth XiangYa Hospital, in Changsha, China. (View more projects by Payette in ARCHITECT's Project Gallery.)
The firm has received numerous awards for its work from the AIA, including an Institute Honor Award for Interior Architecture and a COTE (Committee of the Environment) Top Ten Green Project award for the Milken Institute; a COTE Top Ten award for the Biosciences Research Building; AIA National Healthcare Design awards for the Fifth XiangYa Hospital as well as for a surgical facility inside Brigham and Women's Hospital in Boston; and an AIA TAP (Technology in Architectural Practice) Innovation Award for its Glazing and Winter Comfort Tool. Its projects have also won multiple accolades from the Boston Society of Architects, myriad AIA components, and the Society for College and University Planning. Payette is also a regular on the annual ARCHITECT 50 lists.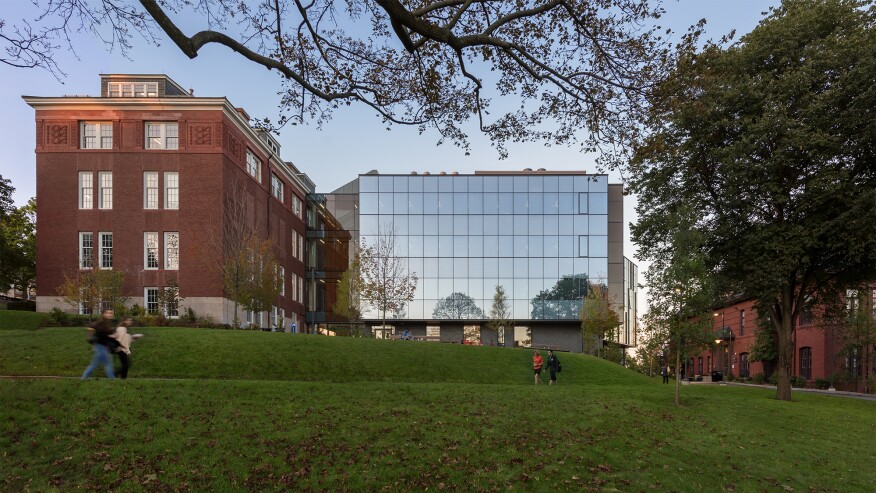 Finally, Payette is known for its collaborative and engaged workplace culture, as a past winner of the AIA IDP Outstanding Firm Award, a host of regular architecture forums, and a partner, with the AIA's Architects Foundation, to offer the annual Payette Sho-Ping Chin Memorial Academic Scholarship.
"While their design work is truly exemplary, it is their commitment to the profession and the manner in which they practice that really stands out," wrote Scott Wolf, FAIA, a partner at Seattle firm Miller Hull Partnership, in a nomination letter. "Their internal culture is one of curiosity and inclusiveness, resulting in a vibrant studio workshop powered by research and collaboration."
The jury for the 2019 AIA Architecture Firm award was chaired by Kelly Hayes-McAlonie, FAIA, director of campus planning at the University of Buffalo, New York; and comprised Dan Hart, FAIA, principal and director of higher education at Parkhill Smith & Cooper's Austin, Texas office; Lori Krejci, AIA, founder and principal of Avant Architects, in Omaha; Pamela Moran, executive director of the Virginia School Consortium for Learning, in Gordonsville, Va.; Antoine Predock, FAIA, founder and principal of Antoine Predock Architects, in Albuquerque; David Richards, FAIA, principal and chief operating officer at Rossetti, in Detroit; Emily Roush-Elliott, AIA, social impact architect at Delta DB, in Greenwood, Miss.; and Rafael Viñoly-Menendez, AIA, partner at LMN Architects, in Seattle.
The 2018 recipient of the Firm Award was Snow Kreilich Architects, which is based in Minneapolis and led by Julie Snow, FAIA, and Matthew Kreilich, AIA.
This is a breaking news story and may be updated as new information arises.