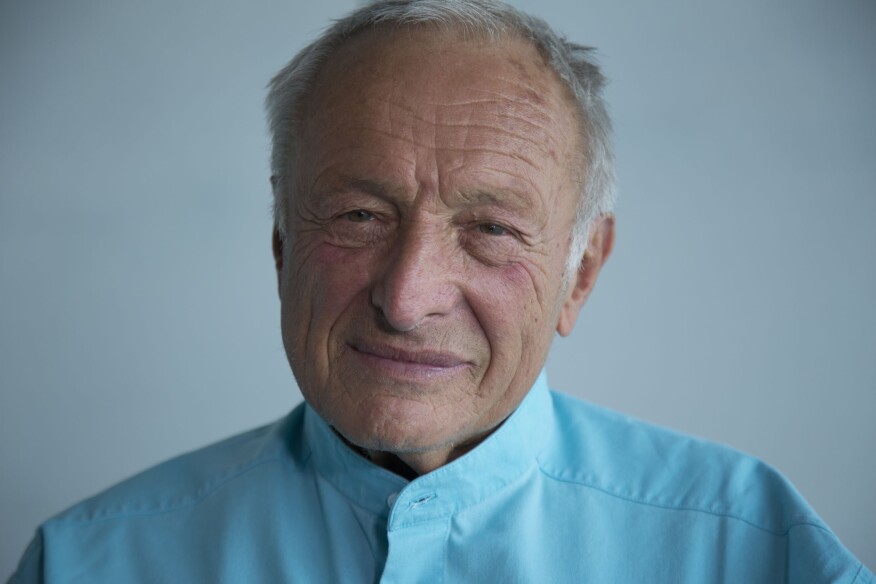 Today, the American Institute of Architects announced that Richard Rogers, Hon. FAIA, will be the recipient of the 2019 Gold Medal, the highest honor that the AIA can confer on an individual or pair of individuals "whose work has had a lasting influence on the theory and practice of architecture," according to the Institute.
Rogers' storied career in architecture began at London's Architectural Association, followed by M.Arch. studies at Yale University, which he attended on a Fulbright Scholarship, and where he studied under the likes of James Stirling and then-chair of the School of Architecture, Paul Rudolph. After a stint at Skidmore, Owings & Merrill in New York, Rogers returned to London to start his own practice in 1963 with Norman Foster, Hon. FAIA, Wendy Cheesman, and Susan Brumwell, called Team 4, which produced projects such as the Reliance Controls Factory in Swindon, England. In 1971, after Team 4 had disbanded and Rogers and Foster had started their own firms, Rogers partnered with Renzo Piano, Hon. FAIA, in a practice known as Piano + Rogers. It was this firm that won the commission for the Centre Georges Pompidou in Paris that revolutionized museum design and earned Rogers a reputation as what The New York Times termed a "high-tech iconoclast." In 1977, the same year that the Centre Pompidou was completed, Rogers formed his most famous London-based practice, the Richard Rogers Partnership, which was rebranded in 2007 to Rogers Stirk Harbour + Partners (RSH+P).
"He is the quintessential builder, committed to mastering the craft and technology of construction, harnessing it towards efficient buildings, and forging an expressive architectural language," wrote 2015 AIA Gold Medalist Moshe Safdie, FAIA, in support of Rogers' nomination. "Before it was fashionable, he was an environmentalist, who recognized early in his career the challenges of energy and climate, developing innovative solutions."
Over the past 40 years, the firm has merged building technology, design, and a distinctive use of color to transform cities across the globe with projects such as Lloyd's of London (1986), the Millennium Dome (1999), Maggie's West London (2008), and the Leadenhall Building (2014), all in London; T4 Madrid Barajas Airport in Madrid, Spain (2005); 8 Chiffley in Sydney, Australia (2013); the BBVA Bancomer Tower in Mexico City (2016); and 3 World Trade Center in New York (2018). In 2016, RSH+P relocated its London office to a space in the Leadenhall Building, where "the choice of a completely open plan office reflects the democratic beliefs of the practice," the company says on its website. "Architecture is too complex to be solved by any one person. Collaboration lies at the heart of all my work. I enjoy the dynamic that flows when different disciplines, from sociology to mathematics, engineering to philosophy, come together to create solutions," Rogers is quoted saying on his website profile.
"Richard Rogers is a friend, a companion of adventures and life," Piano wrote in support of his nomination. "He also happens to be a great architect, and much more than that. He is a planner attracted by the complexity of cities and the fragility of earth; a humanist curious about everything (from art to music, people, communities, and food); an inexhaustible explorer of the world. And there is one more thing he could be: a poet."
Rogers has been widely recognized for his body of work with some of architecture's highest honors, including the Pritzker Architecture Prize (2007), the Praemium Imperiale award for architecture (2000), the Royal Institute of British Architects Royal Gold Medal for Architecture (1985), and the Thomas Jefferson Medal (1999). He has also received acclaim in the United Kingdom: Rogers was knighted in 1991, made a life peer in 1996, and made a member of the Order of the Companions of Honour in 2008.
"We know that architecture is a discipline of enormous political and social consequence," Lord Peter Palumbo of Walbrook wrote of Rogers in support of his nomination. "And today we celebrate Richard Rogers, a humanist who reminds us that architecture is the most social of arts. Throughout his long, innovative careers, Rogers shows us that, perhaps, the architect's most lasting role is that of a good citizen of the world."
The 2019 Gold Medal will be conferred at the 2019 AIA National Conference on Architecture in Las Vegas. Rogers will join the ranks of past winners including James Stewart Polshek, FAIA (2018), Paul Revere Williams (2017), Denise Scott Brown, Hon. FAIA, and Robert Venturi (2016), Julia Morgan (2014), Steven Holl, FAIA (2012), and Fumihiko Maki, Hon. FAIA (2011), among others.
The jury for the 2019 AIA Gold Medal was chaired by Kelly Hayes-McAlonie, FAIA, director of campus planning at the University of Buffalo, New York; and comprised Dan Hart, FAIA, principal and director of higher education at Parkhill Smith & Cooper's Austin, Texas office; Lori Krejci, AIA, founder and principal of Avant Architects, in Omaha; Pamela Moran, executive director of the Virginia School Consortium for Learning, in Gordonsville, Va.; Antoine Predock, FAIA, founder and principal of Antoine Predock Architects, in Albuquerque, and the 2006 Gold Medal winner; David Richards, FAIA, principal and chief operating officer at Rossetti, in Detroit; Emily Roush-Elliott, AIA, social impact architect at Delta DB, in Greenwood, Miss.; and Rafael Viñoly-Menendez, AIA, partner at LMN Architects, in Seattle.
This is a breaking news story and will continue to be updated.