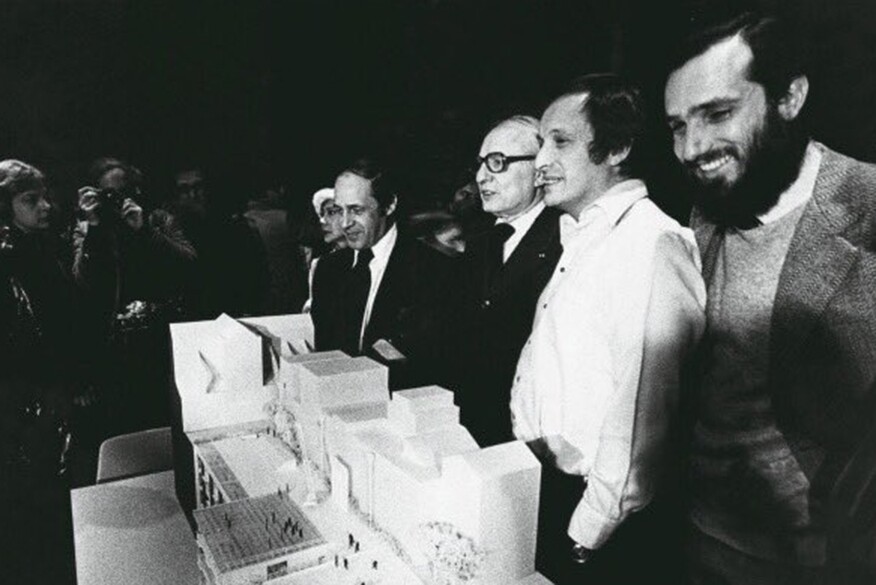 Decades before Renzo Piano, Hon. FAIA, and Richard Rogers, Hon. FAIA, earned their respective Pritzker Prizes, the duo—now of Renzo Piano Building Workshop, in Paris and Genova, Italy, and Rogers Stirk Harbour + Partners in London—designed the Centre Pompidou in Paris after winning the French Ministry of Culture's competition in 1971 with Gianfranco Franchini. The iconic 10-story steel building opened 40 years ago today, and first welcomed the public on Feb. 2, 1977.
Centre Pompidou is among the earliest projects listed in each firm's extensive online portfolios. "The Centre Pompidou brings together the themes which have characterised Rogers' architecture from the mid 1960s – skin and structure, technology and flexibility, movement and anti-monumentalism," notes Rogers' firm. Piano's firm compares the inside-out structure to a spaceship: "The centre is like a huge spaceship made of glass, steel, and coloured tubing that landed unexpectedly in the heart of the Paris, and where it would very quickly set deep roots."
The firms are recognizing the milestone on Twitter this week, and ARCHITECT collected a few of the comments below.
Richard & Renzo's @CentrePompidou is 40 in 2017! To celebrate, all next week I will share 40 photos spanning from 1977 to 2017 #architecture pic.twitter.com/v5yzY6Iobj

— Rogers Stirk Harbour (@RSHParchitects) January 27, 2017
1. We're celebrating 40 years of Pompidou this week, starting with this concept sketch showing how the building developed. #architecture pic.twitter.com/8pZn28GV1S

— Rogers Stirk Harbour (@RSHParchitects) January 30, 2017
2. Richard & Renzo at a @CentrePompidou press conference @RPBWARCHITECTS #architecture #pompidou pic.twitter.com/VLJzmuFMmP

— Rogers Stirk Harbour (@RSHParchitects) January 30, 2017
3. Philip Johnson was one of the jurors who chose the Piano+Rogers scheme for the @CentrePompidou pic.twitter.com/nq96t9FfAf

— Rogers Stirk Harbour (@RSHParchitects) January 30, 2017
Richard + Renzo with Su Rogers & Gianfranco Franchini on 19.7.1971 after winning the @CentrePompidou competition. pic.twitter.com/B9TdvGr9OF

— Rogers Stirk Harbour (@RSHParchitects) January 30, 2017
5. One of the original models of @CentrePompidou on display in our studio @RPBWARCHITECTS #architecture pic.twitter.com/MKrdsxUtal

— Rogers Stirk Harbour (@RSHParchitects) January 30, 2017
6. Before the @CentrePompidou was built, this area of Beaubourg was just a car park! This photo shows it from above. @RPBWARCHITECTS pic.twitter.com/K2CDQDQDAT

— Rogers Stirk Harbour (@RSHParchitects) January 31, 2017
7. An artist paints the scene of the demolition as building @CentrePompidou gets underway. @RPBWARCHITECTS #artandarchitecture pic.twitter.com/Ajdat9GXKf

— Rogers Stirk Harbour (@RSHParchitects) January 31, 2017
Happy Anniversary to the @CentrePompidou inaugurated 40 years ago today! @RSHParchitects @RPBWARCHITECTS
© RPBW, ph. Francesca Avanzinelli pic.twitter.com/rgJYiBYo5T

— RPBW (@RPBWARCHITECTS) January 31, 2017
Piano + Rogers team in the excavated site for the @CentrePompidou 1972. Check out those flares + moustaches! #70svibes #architecture pic.twitter.com/7UwyQgts0I

— Rogers Stirk Harbour (@RSHParchitects) January 31, 2017