This week, we're sharing projects from Taiwan to Greece, New York, and the Netherlands, with several stops in between. In addition to the projects that we cover in detail, we highlight work that architecture firms share with us every day through Project Gallery, the user-generated portion of ARCHITECT's website. To date, we have more than 15,000 projects.
Illume, Nashville, Tenn.
The Bradley Projects
"Illume is a collection of 77 residences located in the Gulch View neighborhood. Just minutes away from entertainment, shopping, and dining experiences, Illume is right near the action. The design concept stems from a City-on-the Hill, jewel-box experience set on the edge of downtown Nashville."
ALP Logistics Republic Yangmei, Taoyuan, Taiwan
JJP
"Due to the limited site area, unlike the traditional horizontal warehousing, the three-story warehouse is vertically stacked and connected by two 120m long ramps to form a high-efficiency logistics center."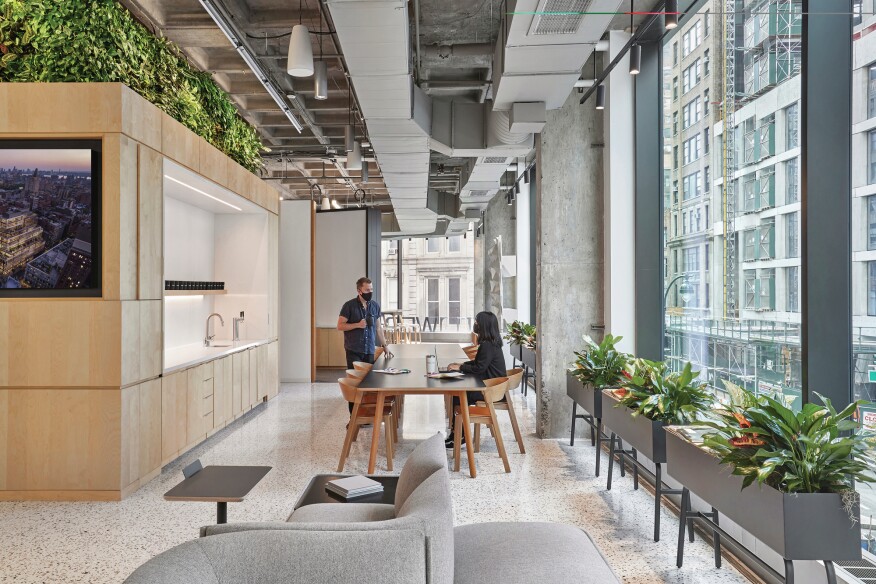 Nomad Tower Studio, New York
Perkins&Will Architects
"The vision for the New York studio comes to life as an agile and intuitive space that can pivot to accommodate behavioral, cultural, and technological change in the workplace. The studio's flexibility allows for the new space to serve as an agile learning lab, experimenting with new work models and technologies in real-time."
Harbor Pavilion, Long Beach Township, N.J.
Parnagian Architects
"The interior space is delineated with a vertical red cedar slat clad wall separating an elevated storage loft and workspace from the 'Garage' space. The slatted wall also functions to conceal doors to additional storage below. Skylights are carefully situated to capture soft northern light."
NJIT Makerspace Lab | New Jersey Institute of Technology, Newark, N.J.
ikon.5 architects
"The NJIT Makerspace Lab is an addition and renovation to the Guttenberg Information Technology Center and is designed to support innovative interdisciplinary programs that promote entrepreneurship."
Lake West Five Exhibition Hall, Tianjin, China
GBBN Architects
"With a new skin, what was once a closed, blue box is transformed by transparent, glass curtain walls on top of which sit giant blocks of illuminated, translucent glass. The new exterior design segments the building, allowing pedestrians to experience it at a smaller, friendlier scale."
Hourglass Corral, Milos, Greece
DECA Architecture
"DECA Architecture recently completed Hourglass Corral, a house in the Southern part of the Greek island of Milos that is intrinsically molded by the natural conditions of its site. Sunk low and stoic in the sun-drenched Cycladic landscape cooled by breezes from the nearby sea, it accommodates four bedrooms that all face South, the roof planted with a variety of aromatic plants."
Yura Yura, Miami
Kengo Kuma & Associates
"Posing a challenge of creating a work of art displaying an environmental message using ARCA's marble bricks, Kengo Kuma & Associates designed a structure based on defying the idea of stone as a heavy material with the fate of being part of even heavier elements."
New European Patent Office Site in The Hague, Rijswijk, the Netherlands
Ateliers Jean Nouvel, Dam & Partners Architecten
The New European Patent Office Site in The Hague houses the EPO's extensive staff and operations within 278,871 square feet of office space. Completed in 2018 by the Paris-based firm Ateliers Jean Nouvel and the Amsterdam-based firm Dam & Partners Architecten, the project is the largest steel structure in the Netherlands. In his latest column, ARCHITECT contributing editor Aaron Betsky analyzed winning design for the Shenzhen Opera House in China, explaining that the proposed building is "translucent and coherent from a distance, while close-up and interior views reveal vast, shimmering spaces, covered with net-like grids, that seem to have no visible support." Read more of Betsky's "Notes from the Shenzhen Opera House Competition" here, and read more about the New European Patent Office Site in The Hague here.
Want to see your firm's work highlighted here? Sign up for an account with our Project Gallery, add your firm, and upload your projects. Go to the home page for the gallery and click on Create a Project.