Dear Readers,
These past two rounds were full of frighteningly close matches—the ARCHITECT staff was on the edge, waiting to see the final outcomes. But the good news is that you've brought on some interesting matches for this past edition of ArchMadness' Elite Eight, and for that, your voting is applauded.
The foremost of these matches was between Thom Mayne, FAIA, and Frank Gehry, FAIA, both hailing from the City of Angels. Mayne, responsible for co-founding SCI-Arc, an avant-garde architecture school in Los Angeles, managed to pull ahead by nine votes in the last round over Australian holistic practitioner Glenn Marcus Murcutt, Hon. FAIA, of Australia. Meanwhile, Gehry beat out Spanish architect Santiago Calatrava, FAIA—noted for his over-the-top, budget-busting designs—by a solid 25 votes.
These votes managed to generate a fascinating matchup between the two Southern California provocateurs who arouse the industry as much as their critics. Ultimately, Mayne beat out Gehry by seven ballots, perhaps due to his profound work in sustainability over projects that are shiny and curved.
While none of the other matches were nearly as close, we did see a solid sweep by Italian architect Renzo Piano, Hon. FAIA, over Austrian-American modernist Richard Neutra. Although Piano's work, which is commended for finding a delicate balance between shaping a new urban skyline while still respecting the structure's native environment, is compelling in its own right (Time Magazine named him one of the most influential people in the world in 2006), it was surprising to see him beat out Neutra, who shaped modernist design for following generations, and was known for putting the client as the primary influence for his projects.
Now for the Final Four. Click on each matchup below to learn more about the architects (past coverage and projects they've completed can be found be clicking on the bottom links). To vote, click on the name or picture of the architect you prefer.
The polls for this round close on April 3, at 11:59 p.m. Check back then to see who made it to the Championship, and follow other readers' choices by tweeting out #ArchMadness2016.

Select an architect to learn more and to vote!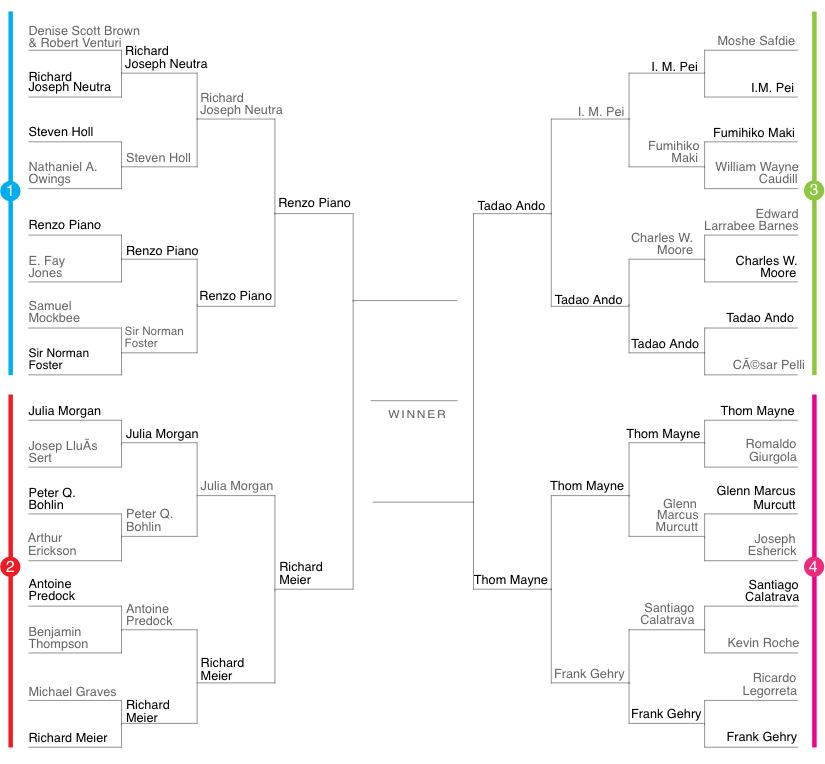 SEMI-FINAL GROUPS 1 & 2
SEMI-FINAL GROUPS 3 & 4