ARCHITECT Readers,
When we here at ARCHITECT saw the outcome of Round One of this year's ArchMadness, we were surprised by some of the architects who didn't make the cut, including Frank Lloyd Wright disciple E. Fay Jones and the power duo Denise Scott Brown, Hon. FAIA, and Robert Venturi, FAIA. Last round, the Sweet Sixteen, brought about even more upsets, and here are some of the highlights.
For the first time, we had a near draw: As of yesterday afternoon, Peter Bohlin, FAIA, a principal of Bohlin Cywinski Jackson, had a slight edge on the late Julia Morgan. But fans of the Arts & Crafts connoisseur and the first woman to win AIA's Gold Medal, came in a for a rebound and delivered with a buzzer beater to best the Pennsylvania-based architect by a single vote.
Another heated match occurred between one of the SCI-Arc founders, Thom Mayne, FAIA, and Australia's Glenn Marcus Murcutt, Hon. FAIA. The two figures differ largely in attitude and aesthetic. Mayne is a renowned "bad boy" lauded for his provocative designs while Murcutt is an off-the-grid practitioner who focuses on sustainability. It was interesting to see results stay relatively close for such different architects, but in the end, Mayne put nine votes in the bucket over Murcutt.
Seeing as drama seems to follow these two architects, it may not come as a surprise that one matchup kept both the ARCHITECT staff and our readers on their toes. Perennial firecracker Frank Gehry, FAIA, of Los Angeles, duked it out with Spanish architect Santiago Calatrava, FAIA, famous for his budgets-be-damned approach bolstered by his enthusiasm for structural engineering. When the polls closed, Gehry topped Calatrava by 25 votes, or 55 percent of the total.

Alas, we have arrived at the Elite Eight. If you've been following the previous rounds, you should know what to do. For those just tuning in, click on each matchup to learn more about the architects (past coverage and projects they've completed can be found be clicking on the bottom links). To vote, click on the name or picture of the architect you like better.
The polls for this round close on Sunday, March 27, at 11:59 p.m. Check back on Monday to see who made it to the Final Four, and share your picks on Twitter via #ArchMadness2016!

Select an architect to learn more and to vote!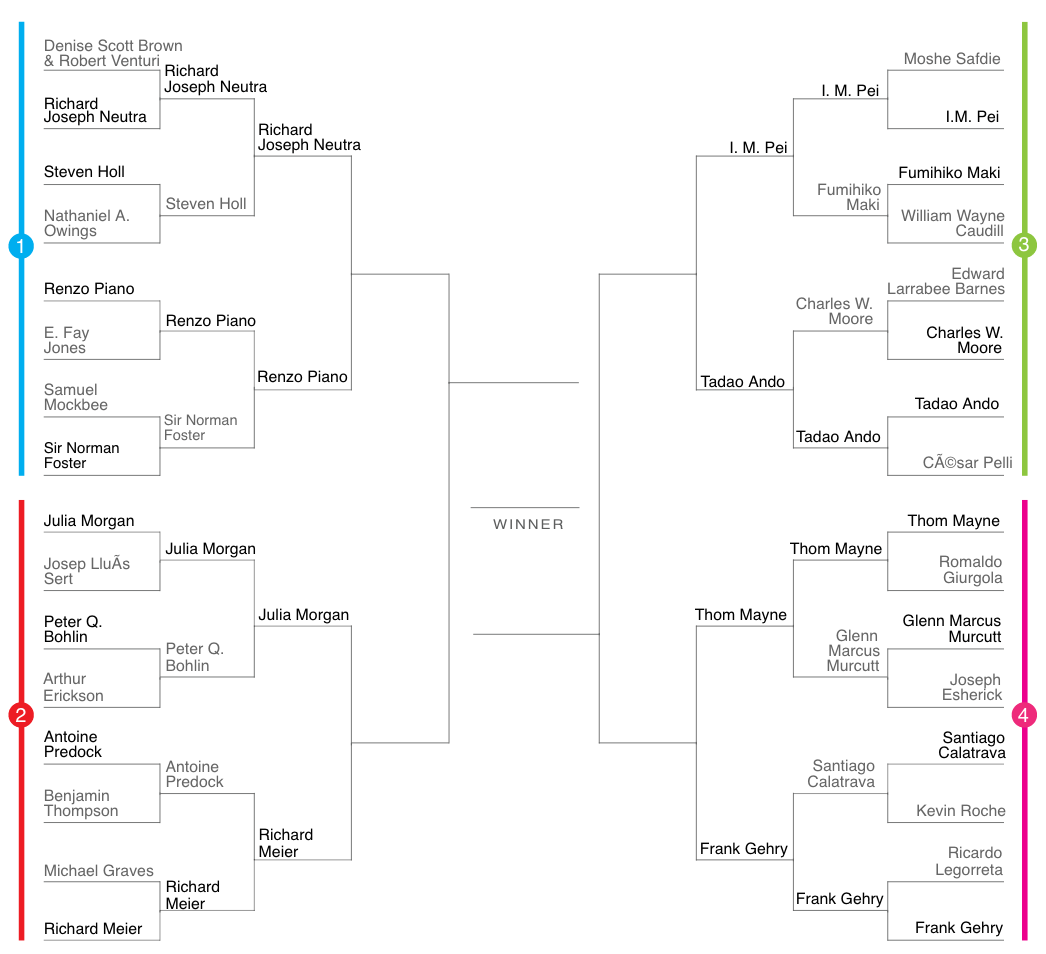 GROUP 1
GROUP 2
GROUP 3
GROUP 4