One of the more intriguing lost chapters in modern architectural history is the period of time that 1962 Yale School of Architecture graduate Norman Foster, Hon. FAIA, spent studying with Paul Rudolph. Other than the 1963 Creek Vean House—a semi-subterranean concrete-block fugue designed with fellow Yalie Richard Rogers, Hon. FAIA, for the latter's then-in-laws—it's hard to see much of the Brutalist master's heavy hand and gorgeous gloom in Foster's subsequent output of determinedly lightweight and relentlessly sunlit glass-and-steel buildings.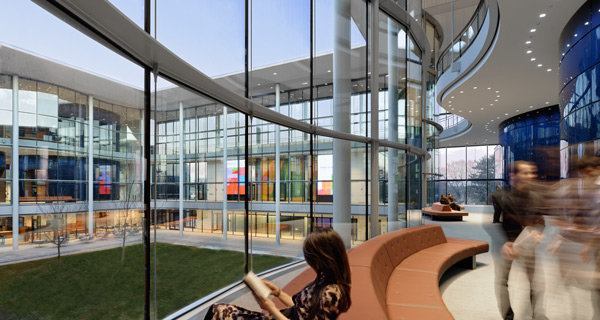 The latest in this succession is, fittingly, back in New Haven, Conn.: Edward P. Evans Hall, the new home of the Yale School of Management, which opened in January. At 249,743 square feet and a reported $189 million, the building assembles the school's formerly scattered facilities, which serve some 300 students, around a grassy little courtyard and under one deeply overhanging roof. Monumentally shiny and not especially subtle, the building is closer in geography and spirit to the nearby Eero Saarinen and Philip Johnson buildings on Yale's peripheral science and athletic campuses than it is to the dense Rudolph and Louis Kahn masterpieces at the university's heart.
Foster's recent work generally divides itself between the latently classical and the retro-futuristically biomorphic. Evans Hall tends toward the former, with—somewhat in the manner of the architect's 1993 Carré d'Art at Nîmes, France—a row of 15 tall and slender columns (some 60 feet high on 25-foot centers) along its entrance façade. Set back behind that colonnade, under a pale canopy, is a deeply modulated glass curtainwall.
The modulations are informed by Foster's signature half-circle stair landings and a boxy reading room, as well as the perimeter expressions of interior elliptical volumes that add a touch of the biomorphic to the plan. On the ground floor, these drum-like elements house a coffee shop and commons. On two double-height upper levels, they enclose 16 generously scaled classrooms. Their deep blue cladding, visible through the glass façade, is vanishingly close to the signature Pantone 289 of Yale's heraldry. Aligned with the main entrance across the courtyard is a semi-elliptical 350-seat auditorium and event space.
The ovoid geometry propagates toward the central courtyard's glazed walls, which wiggle in and out along the north and south sides. This curvaceousness ensures some sparkle in varied daylight, directs the drift and flow of students and faculty through the adjacent circulation space—and presumably encourages the serendipitous encounters and spontaneous gatherings on which good management relies in this era of wearable technology and flat organizational charts.
Today's corporate and academic campuses favor breakout spaces—nooks, perches, lounges, cafés—as architectural expressions of the reconfigurable formlessness characteristic of adaptive and technologically driven organizations. In Foster's well-populated renderings of Evans Hall, each area between the elliptical classrooms and curved glazing features lively gatherings on banana-shaped furnishings—evoking something between a conversation pit and an airport gate. These once-secondary areas, nominally circulation space, may come to accommodate the primary functions of both the building and the organization it houses—a confluence of current best practices in architecture and management and a stimulating inversion of Kahn's canonical division of buildings into served and servant spaces. However, the willful North–South symmetry of Foster's plans—a tidy classicism not abundantly evident in the collegiate gothic of the surrounding campus—doesn't allow for a fuller realization of this transformation.
During Foster's time at Yale, while Rudolph's Art and Architecture building was still underway, architecture studios were accommodated on the top floor of Kahn's Yale University Art Gallery. Although that building is primarily known for its famous blank brick wall along Chapel Street, it is also Kahn's glassiest work, with largely unbroken curtainwalls along its north and east façades. Some memory of those promisingly open edges beneath a broad sheltering roof must have animated Foster's design for Evans Hall. Perhaps over this new building's life, as in any architecture studio, the lively asymmetries and messes missing in the plan will be provided by the students themselves. (And, for MBAs in the long shadow of the Great Recession, a dash of necessary Rudolphian gloom, too.)
---
Drawings
---
Project Credits
Project Edward P. Evans Hall, New Haven, Conn.
Client Yale University
Design Architect Foster + Partners, London—Norman Foster, Hon. FAIA (chairman and founder); David Nelson, Spencer de Grey, Nigel Dancey, Chris West, David Burton, Georgia Bez, Kathleen Laskin, Danny Shaw, Zoe Stokes, Jorge Uribe (project team)
Architect of Record IBI Group • Gruzen Samton
M/E and Structural Engineer Buro Happold
Quantity Surveyor Davis Langdon
Lighting Consultant Claude Engle
Landscape Consultant Olin
Acoustics, A/V, IT and Security Consultant Arup
Vertical Transport Consultant Van Deusen and Associates
Food Service Consultant Ricca Newmark Design
Main Contractor Dimeo
Size 249,743 square feet (gross)
Cost Withheld