According to the National Organization of Minority Architects (NOMA), only 2 percent of licensed architects in the United States are black. Though that number is tragically low, the profession does continue to take steps towards diversifying itself as architects of all races and genders advocate for equality. In honor of Black History Month, ARCHITECT recognizes the architectural achievements of five architects of color who have contributed great work to the American urban landscape.
Listed below are some of the influential black architects and their projects:
National Museum of African American History and Culture by David Adjaye of Adjaye Associates with the Freelon Group, Davis Brody Bond, SmithGroup JJR, Guy Nordenson and Associates, Robert Silman Associates, and WSP Flack + Kurtz
Recently knighted by the Queen of England, Ghanaian-British architect David Adjaye, Hon. FAIA, was part of the design team for the National Museum of African American History and Culture in Washington, D.C. The museum is the first Smithsonian museum in the nation's capital dedicated to African-American history from slavery, to civil rights, segregation, and to the present day.
Theme Building at the Los Angeles International Airport by Paul Revere Williams
Winner of the 2017 AIA Gold Medal, Paul Revere Williams is the first African-American architect to be awarded the Institute's top honor, albeit posthumously. The iconic Theme Building, a mixed-use commercial structure at the Los Angeles International Airport, is an L.A. landmark and a symbol of Williams' work.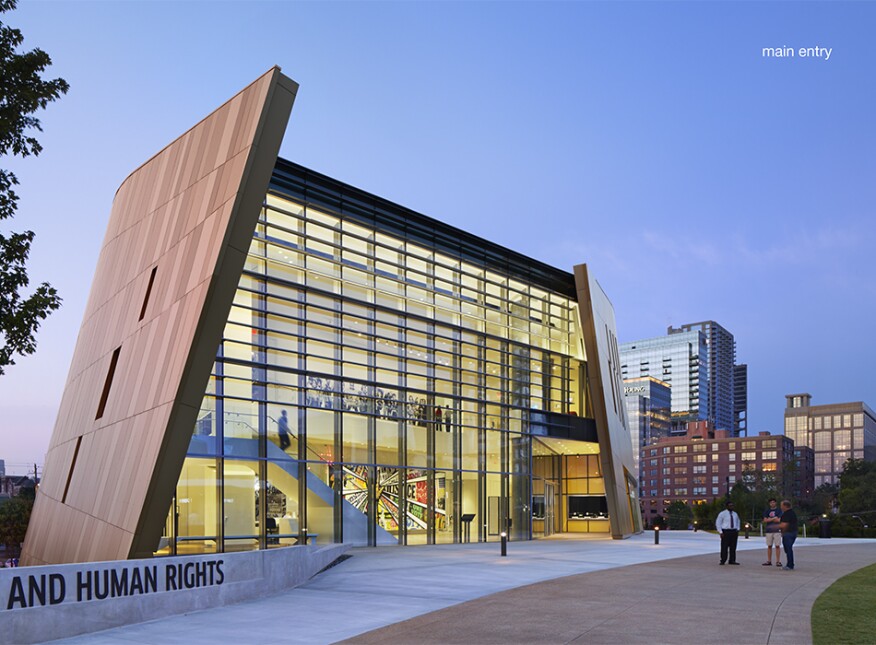 National Center for Civil and Human Rights by Phil Freelon, founder and president of the Freelon Group, and currently a managing and design director of Perkins+Will
Dedicated to the understanding and exploration of the individual's role in civil and human rights, the National Center for Civil and Human Rights in Atlanta was designed by African-American architect Phil Freelon, FAIA, to reflect the institute's mission of solidarity and unity.
JOSAI I-House Togane Global Village by Studio SUMO
This dormitory on the Josai International University campus in Togane, Japan, is one of the many projects designed by New York–based firm Studio SUMO, co-founded by African-American architect Yolande Daniels. Daniels incorporates cultural contexts in her designs, making each of her projects unique and a reflection of the surrounding community.
Dunbar Senior High School by Moody Nolan and Perkins Eastman
Moody Nolan's winning design for the Dunbar Senior High School in Washington, D.C., was inspired by the original 1917 school that was demolished in the 1970s. The local–based firm was founded by African-American architect Curtis J. Moody, FAIA, 30 years ago with the hope of excelling in a field with little minority representation. The firm is headed by Moody's son, president and architectural designer Jonathan Moody, AIA.