A Designer Says Architects Can Use Generative AI Tools to Craft Kinectic Spaces
In an interview with FRAME, Egyptian architectural designer and conceptual artist Hassan Ragab discusses how he began creating thought-provoking, computational building designs on Midjourney—a generative AI platform he uses to create artful and vibrant architectural renderings. "The good thing about using these tools now is that they mainly focus on your idea," Ragab told FRAME. "All the other software that we use as architects and designers revolves around your technical abilities."
In the near future, Ragab believes architects will embrace these types of tools to help them design new buildings. "The big firms will be more interested in people like data scientists or machine learning specialists because these people can really harness the power of AI," Ragab said. His talent for using platforms like Midjourney has garnered him a sizeable following on Instagram, where he documents his work. [FRAME]
An Exhibition Explores Reimagining Materiality to Facilitate Environmental Preservation

The Museum of Modern Art in New York recently announced Life Cycles: The Materials of Contemporary Design, an exhibition opening in the museum's street-level gallery on Sept. 2. Life Cycles will explore different ways design can remain elegant and innovative while maintaining care and respect for the environment.
Approximately 80 contemporary design works from the museum's collection—including designer Adhi Nugraha's Cow Dung Lamps, pictured above— will be on display, showcasing how designers have reimagined materials in service of environmental preservation and protection. "The environmental crisis is front and center in everybody's mind," Paola Antonelli, the exhibition's senior curator, said in a MoMA press release. "Design can be an agent of positive change and play a crucial part in restoring the fragile ties between humans and the rest of nature. The materials with which objects are made, and our cultural attitudes toward them—as designers and as citizens—lead this evolutionary process." [MoMA]
The Winner of the 2023 Davidson Prize

The Davidson Prize, an annual competition that recognizes transformative residential architecture across the United Kingdom and Ireland, has announced this year's winning project: Helping Hands by Liverpool, England-based Studio Mutt and development company Neighbourhood in London.
This year, the competition received submissions from 47 multidisciplinary teams to create design plans for temporary accommodations for unhoused individuals in the UK and Ireland. "The idea of homelessness is unsettling to all of us, but the care and quality of creative thought behind this year's submissions to The Davidson Prize has helped push the debate forward with innovative and workable solutions," Sadie Morgan, chair of the 2023 Davidson Prize jury, said in a press release. "Collectively, this year's entries show the value of multidisciplinary design thinking to a subject that needs tackling now. Choosing an outright winner was tough; what tipped it for Helping Hands was the sense of people working together on the ground, building on existing community infrastructure, and taking collective responsibility for a better future." Helping Hands, a temporary housing and support services concept for Bootle, Liverpool, caters to young people aging out of the region's foster care system through a network of individual residences and public spaces. [The Davidson Prize]
Greenwashing and Consumer Distrust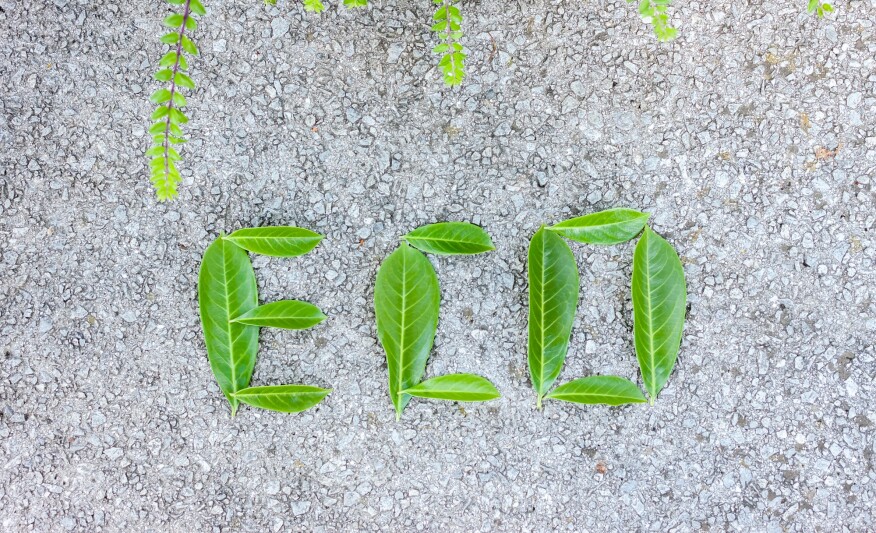 In Business of Home, managing editor Haley Chouinard writes about the impact of greenwashing on the home industry and consumers' trust in the United States. "Greenwashing is [a practice] adopted by companies who want to be allied with a positive response from consumers by using a certain kind of language to describe their product," Alison Mears, director and co-founder of the Healthy Materials Lab at Parsons School of Design, said in the story. "They can do that without any kind of consequences [...] Especially when it comes to sustainability terms, there aren't controls over the kind of language that is used, the definition of 'sustainable,' and the meaning of 'green' and 'nontoxic.' So, people use this spin to try to be associated with a more desirable section of the marketplace. It's false advertising, essentially." When consumers or design professionals become aware of these misleading practices, they may decide against purchasing certain products, which can negatively affect the market and lead to government intervention with new laws and regulations, explains the article.
In March, the European Union issued its Directive on Green Claims, a proposal for legislation that aims to prohibit companies from making misleading eco-friendly claims. Legislation and standards like this could encourage more governments to adopt transparent and honest product labeling, including in the U.S. And if not, Chouinard says, competition from European manufacturers could force American companies to make changes. [Business of Home]
Venice Biennale Announces Curator of 2024 Art Exhibition

The Venice Biennale has announced that Brazilian art curator Adriano Pedrosa will curate the 60th International Art Exhibition at next year's Biennale, which is scheduled to take place from Apr. 20, 2024, to Nov. 24, 2024, in Italy. The theme, "Stranieri Ovunque - Foreigners Everywhere," was inspired by a series of neon sculpture works by Palermo, Italy–based collective Claire Fontaine that illustrate the words "Foreigners Everywhere" in various languages. The phrase echoes the name of a Turin, Italy–based collective that fought racism and xenophobia in the country during the early 2000s. The 2024 Venice Art Biennale, Pedrosa said in a press release, "will focus on artists who are themselves foreigners, immigrants, expatriates, diasporic, émigrés, exiled, and refugees—especially those who have moved between the Global South and the Global North [...] In this landscape, the phrase Foreigners Everywhere has (at least) a dual meaning. First of all, that wherever you go and wherever you are you will always encounter foreigners—they/we are everywhere. Secondly, that no matter where you find yourself, you are always, truly, and deep down inside, a foreigner." [Venice Biennale]
Indoor Gas Pollution Can Be Worse Than Secondhand Smoke

According to a new study by the Stanford University Woods Institute for the Environment in California, pollution from gas stoves might be worse than secondhand smoke. "A single gas cooktop burner on high or a gas oven set to 350 degrees Fahrenheit can raise indoor levels of the carcinogen benzene above those in secondhand tobacco smoke," states a Stanford News article. Benzene, a chemical compound linked to leukemia and other blood cancers, can linger inside homes for hours, explains a paper published in Environmental Science & Technology. In April, the city of New York banned natural gas use, including stoves, in all new construction starting in 2026 for buildings shorter than seven stories and 2029 for taller structures. [Stanford]
Minimalism at Architect Junya Ishigami's KAIT Plaza Project in Japan

In his latest, ARCHITECT columnist Blaine Brownell, FAIA writes about Japanese architect Junya Ishigami's KAIT Plaza at Kanagawa Institute of Technology in Japan. "The project is a model of how to create an indelible impression on visitors based on the principles of neuroscience," Blaine Brownell wrote earlier this month. "The formula here is deceptively simple but profound: Minimize visual noise while maximizing novelty." [ARCHITECT]
Looking for more tech and culture news? We've got you covered.