The Nov. 28 death of Virgil Abloh at age 41 was announced to the public by LVMH (Moët Hennessy Louis Vuitton) that day online and on social media. The acclaimed designer had been privately suffering with a rare cancer, cardiac angiosarcoma, for the last two years of his life. His inquiries spanning multiple disciplines—fashion, music, and industrial design—are notable for embodying his seemingly insatiable curiosity. "Question everything," Abloh would say and his remarkable career demonstrates how to do so.
Born in Rockford, Ill., to Ghanaian immigrants, Abloh began his career as a civil engineering student at the University of Wisconsin—Madison who then earned an M.Arch. from the Illinois Institute of Technology in Chicago. While studying at IIT, he met Chicagoan Kanye West and began collaborating with West's team on album covers, concert designs, and merchandising. In 2013, Abloh launched Off-White as a Milan–based fashion brand whose products spanned continents, disciplines, and race. His work consistently attained high levels of renown within and across the established industries of fashion, music, and automobile design, while always investigating cross fertilizations among them.
In 2018, Abloh was selected by LVMH to become artistic director of the Louis Vuitton menswear collection, forging a sophisticated blending of streetwear and luxury clothing for the iconic Paris-based company.
In 2019, Chicago's Museum of Contemporary Art mounted a solo exhibition for the artist, Virgil Abloh: Figures of Speech, which continues to travel. At the event's opening, Abloh recalled traveling with West early in his career to Paris, where the pair was denied entry into the fashion shows they had hoped to attend. "I started out screen-printing shirts from the South Side of Chicago to convincing the head of the biggest luxury group that I should steer one of its biggest arms," he said.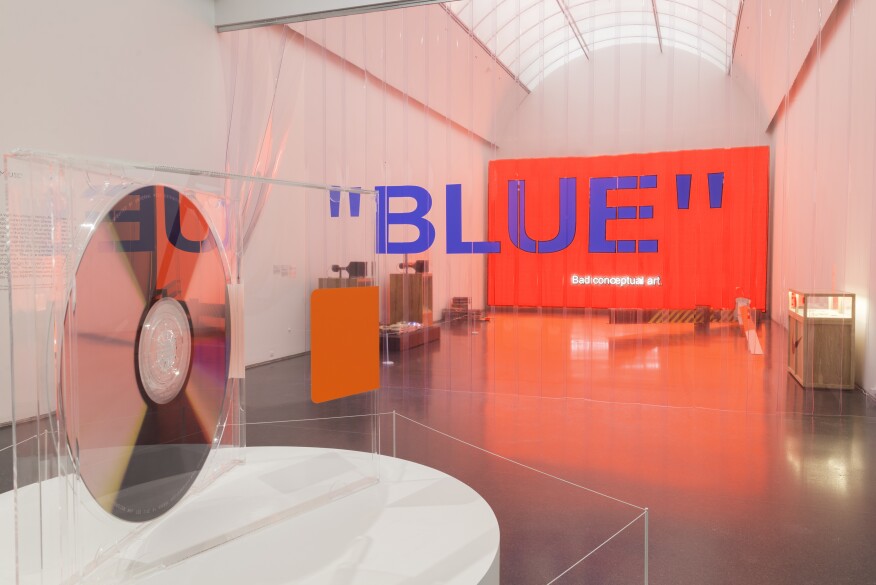 Abloh's output was prolific, but always thoughtful and informed by prototyping methodologies drawn from his college studies. "I'm into failing, it's cool," he said at the MCA. "But there's always a trajectory." In compiling his output for the exhibition, Abloh found his archives spanned six laptops and many additional hard drives. "It took Duchamp just thirteen works to express something, the principles of readymades," he wrote in the exhibition catalog. "I needed four terabytes to get to a place where I think he left off."
"Virgil Abloh was an outstanding example of how an architectural education can prepare people for all kinds of careers," says Reed Kroloff, the current dean of IIT. "He brought the rigor, precision, and fascination with making that are Illinois Institute of Technology hallmarks to everything he did."
Virgil Abloh was an outstanding example of how an architectural education can prepare people for all kinds of careers.
In February 2020, AIA named Abloh as a keynote speaker for its annual Conference on Architecture, an event that was ultimately canceled due to the COVID-19 pandemic. In July that year, Abloh announced the creation of the Virgil Abloh Post-Modern Scholarship Fund, which had raised $1 million in partnership with the Fashion Scholarship Fund to support Black students entering the fashion industry. Its next class of scholars is to be announced early next year.
In a remarkably short time, Abloh was able to secure his legacy through his creativity and output. As part of his tribute to Abloh, fellow Chicagoan Theaster Gates wrote on Instagram, "Virgil wasn't just a luminary, he was a light. He demonstrated what was possible for so many Black artists and designers. He brought Chicago to New York, Milan, Paris and into rooms we had never been before. He reshaped an entire industry with his bold creativity, illuminating a path forward for generations of young designers who will follow in his footsteps.
"Virgil is the blueprint."