Looking for your next great read? In celebration of Earth Month—and in anticipation of Earth Day, observed on April 22—we've combed through scores of recently released and forthcoming texts to bring you nature–themed standouts. Covering climate change, animals and architecture, wellness–focused landscapes, and much more, here are a dozen books to add to your reading list.
Garden Futures: Designing with Nature, by Jamaica Kincaid, Gilles Clement, Leo den Dulk, Oliver Sukrow, and Kris Kozlowski; Vitra Design Museum; 228 pages; $78
Slated to publish in June, Garden Futures looks at gardens past, present, and future with an focus on how these living features can become an armature for a better world through social and ecological justice. Lush photography illustrates the concepts and engages the text through projects that span the realms of art, architecture, and urban planning.
Power of Landscape: Novel Narratives to Engage with the Energy Transition, by Sven Stremke, Paolo Picchi, and Dirk Oudes; NAI010 Publishers; 224 pages; $60
Describing so-called "energy landscapes," the authors lean on research from the Netherlands' Academy of Architecture Amsterdam and Wageningen University to examine the intersection of renewable energy and spatial design in Europe and the United States. Examples in the book, which also enlists outside experts in energy transition and environmental design, include the Hoover Dam in Arizona and Imperial Valley in California.
The Darkness Manifesto: On Light Pollution, Night Ecology, and the Ancient Rhythms that Sustain Life, by Johan Eklöf; Simon & Schuster; 272 pages; $26
In this Simon & Schuster tome, Swedish conservationist Johan Eklöf argues for a return to the darkness of the night. Over the past century and a half, he says, we have lengthened our days and disturbed the natural circadian rhythms of plants, animals, and humans alike. "Eklöf describes how our addiction to nighttime illumination is problematic for many planetary species, and ultimately entire ecosystems, requiring a holistic reconsideration of outdoor lighting," writes ARCHITECT columnist Blaine Brownell, FAIA, in a review of the text. The Darkness Manifesto demonstrates what we have lost and could regain if only we would turn off the lights.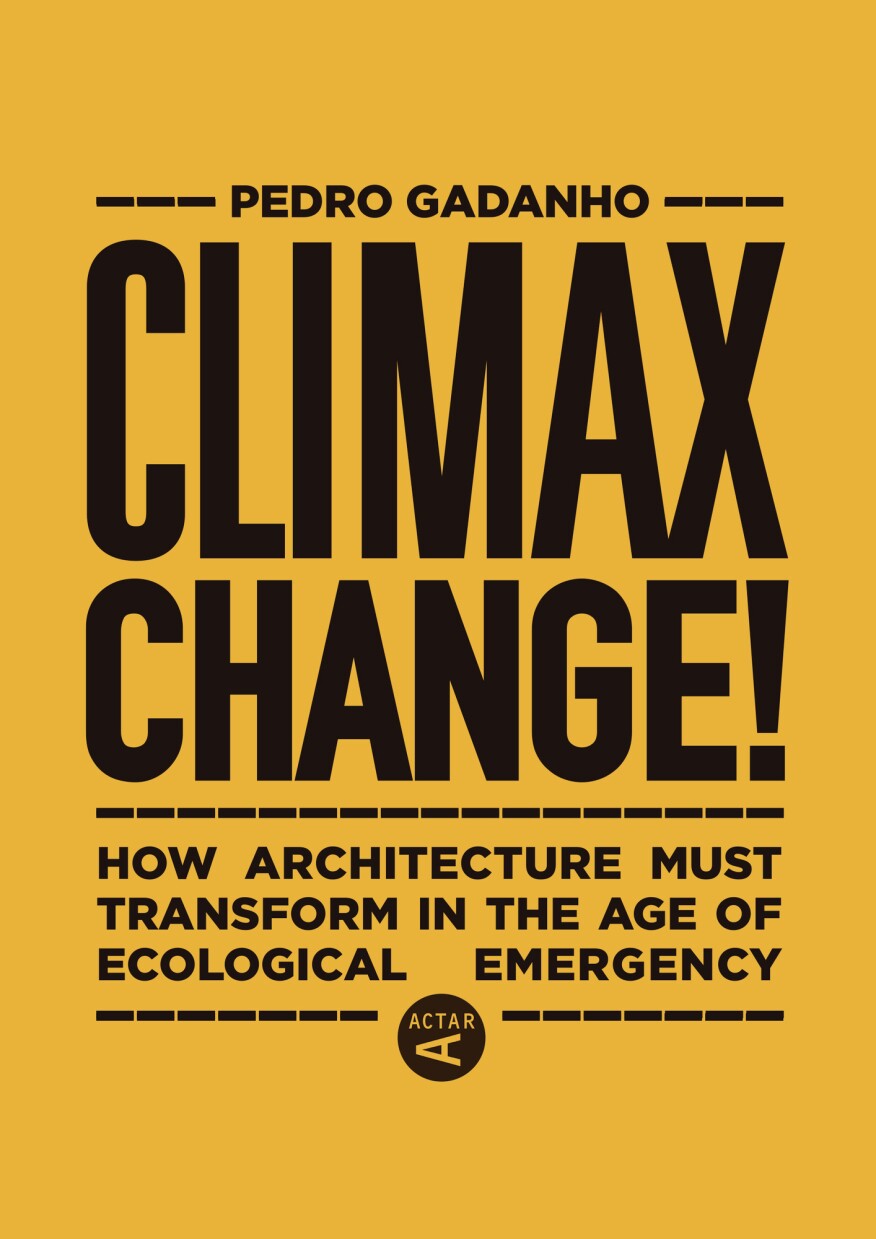 Climax Change: How Architecture Must Transform in the Age of Ecological Emergency, by Pedro Gadanho; Actar Publishers; 256 pages; 40€
This collection of 10 essays explicitly ties contemporary climate change debates to current architectural thinking. Author Pedro Gadanho, an architect and former Loeb Fellow at Harvard University Graduate School of Design, argues that the profession requires clear guidelines for a wholesale transformationt.
Tenacious Beasts: Wildlife Recoveries That Change How We Think about Animals, by Christopher J. Preston; MIT Press; 328 pages; $29.95
This optimistic book looks at the stories of animals (think: Italy-dwelling bears and North American bison) that have beaten the odds and thrived during the industrial age when more than 900 species have met extinction. Preston's compelling tales are organized by habitat, spanning farms, prairies, rivers, forests, and oceans.
Garden City: Supergreen Buildings, Urban Skyscapes and the New Plant-ed Space, by Anna Yudina; Thames & Hudson; 256 pages; £30
Garden City presents 70 projects around the globe that demonstrate contemporary approaches to the integration of nature in the built environment. Projects like Chartier-Corbasson Architectes' Chamber of Commerce and Industry in Amiens, France; Stefano Boeri Architetti 's Vertical Forest in Milan; and Vo Trong Nghia's House for Trees in Ho Chi Minh City, Vietnam, provide fertile ground for a new green urbanism.
Before the Streetlights Come On: Black America's Urgent Call for Climate Solutions, by Heather McTeer Toney; Broadleaf Books; 198 pages; $24.99
Climate activist Heather McTeer Toney cogently argues that Black communities are uniquely situated to lead the environmental movement to successfully fight climate change. According to Toney, residents in these communities breathe 40% dirtier air and are twice as likely to suffer dire health outcomes from climate–related health issues, demanding that our contemporary battle with environmental obstacles becomes a central front in the fight for racial justice.
The Climate Book: The Facts and The Solutions, by Greta Thunberg; Penguin Press; 464 pages; $30
Climate activist Greta Thunberg taps more than 100 experts—including geophysicists, oceanographers, meteorologists, engineers, economists, mathematicians, historians, philosophers, and Indigenous leaders—to weigh in on meeting the environmental challenges of the moment.
The Great Displacement: Climate Change and the Next American Migration, by Jake Bittle; Simon & Schuster; 368 pages; $28.99
Climate migration has begun, even in the U.S. Journalist Jake Bittle chronicles some of these individual stories to paint a vivid picture of how climate change will force millions of Americans to relocate in the coming decades.
Nature, Design, And Health: Explorations of a Landscape Architect, by David Kamp; LALH Books; 256 pages; $40
In this forthcoming LALH text, due out in August, New York–based landscape architect David Kamp shares highlights from his 40–plus–year career, with an emphasis on providing landscape experiences that are accessible to all. By focusing on both personal and environmental health, Kamp has consistently created outdoor spaces that strengthen and support communities.
A Darker Wilderness: Black Nature Writing from Soil to Stars, edited by Erin Sharkey; Milkweed Editions; 312 pages; $20
A compilation of nature writings by various authors explores the role of nature in the lives of Black Americans over the past several centuries. Each essay considers an archival object (a statue of Haitian revolutionary François Makandal, for instance) to discover rich stories across the country, touching on colonialism, slavery, racist policies, and more.
Animal Architecture: Beasts, Buildings and Us, by Paul Dobraszczyk; Reaktion Books; 272 pages; $35
A lecturer at the Bartlett School of Architecture in London, author Paul Dobraszczyk considers the generally accidental interactions between animals and our current architecture to imagine how we might design more consciously with these fellow travelers in mind.