Attending the sustainability-focused Energy Revolution exhibition at the Chicago Architecture Center this summer, I was struck by what was being sold to visitors: cutting-edge washer-dryers, heat pumps, and other home goods—all objects that encompass lifestyle changes that individual consumers can make to lower their household carbon footprint. Fans of the early-aughts show 30 Rock might recall the character Greenzo: an amateur actor hired by General Electric to be "America's first non-judgmental, business-friendly environmental advocate" to mascot the company's sustainability initiatives as a cover for peddling GE home goods. While Greenzo's one-episode arc turns hilariously disastrous, his mission feels prescient among current conversations (and this exhibition) about what sustainability entails. Is the message we want to communicate about climate change mitigation one of consumer choices and new technologies? Or, is it about large-scale social and political wills?
I squarely choose the latter. Acknowledging that Black, Indigenous, immigrant, and impoverished groups are most often the worst affected in climate disasters focuses efforts on climate vulnerabilities as the result of ongoing neglect and disinvestment; recognizing that rates of climate vulnerability were established long ago under historically racist political and social conditions allows architects and design professionals to address sustainability as endeavors both of design and of community repair. So, while perusing the 2022 COTE Top Ten Awards, I was struck first by the public projects included among the winners. Public projects, funded by taxpayer dollars, are the result of the will of the people, and as citizens of those municipalities demand more equitable transit, greater community connections, and greater investment of their tax dollars in social programs, cities become the leaders of the climate movement—and issues of public care rise to the forefront of sustainability.
Care is a less-conventional lens through which to see sustainability practices in architecture. When Shannon Mattern, professor of anthropology at The New School for Social Research in New York, opens her 2018 Places Journal article, "Maintenance and Care," she immediately recognizes a connection between newness and decay. "Values like innovation and newness hold mass appeal—or at least they did until disruption became a winning campaign platform and a normalized governance strategy. Now breakdown is our epistemic and experiential reality," she writes.
The slow dissolving of our built structures, ever-more expedited by climate change, has yielded full-throated responses from big tech: crumbling bridges and roadways spurring new AI-monitoring schemes and concrete sensors to measure deterioration; public transit that won't seem to resume its pre-pandemic regularity being met with Elon Musk's subterranean private vehicle "alternatives"; data-crunching tools that predict rat infestations.
Addressing breakdown, however, isn't only about developing new technologies, Mattern says, and instead requires an everyday practice of maintaining stability through carework. In many ways, the AIA Framework for Design Excellence—which asks architects to create narratives around their efforts to address ideas like "equity" and "community connectivity"—forces architects to think clearly about care as a linchpin to "sustainability" work.
This idea of care comes through most clearly in the Iowa-based Neumann Monson Architects design for the Iowa City Public Works building. Housing vehicles like plows and sanitation trucks, school and public buses, to be deployed across all city streets underscores the significance of these humble structures in the role of city care.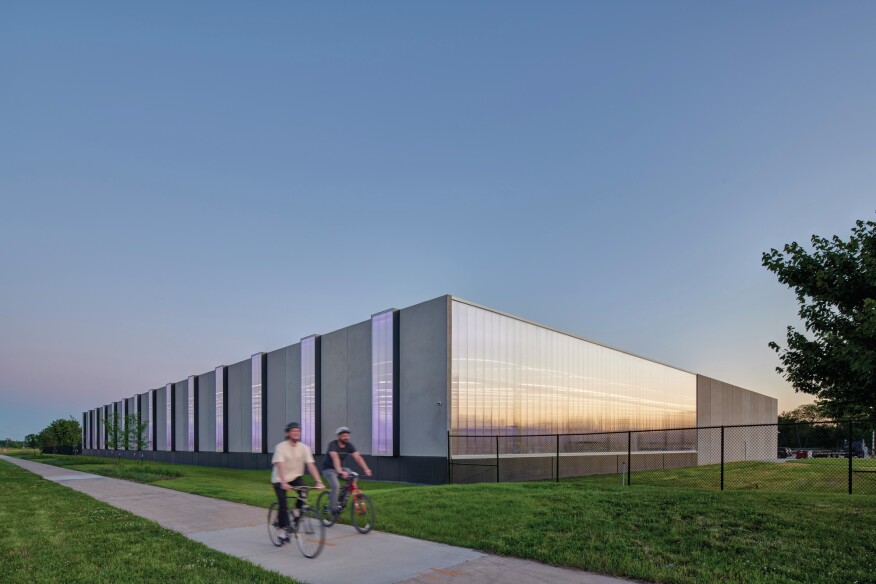 "These are the unsung heroes of our community," says Jesse Bulman, AIA, a Neumann Monson project architect, of the people who work with this equipment. "They go out in the middle of the storm and clear the roads, plow the snow, they collect the garbage, make sure the water is running. These people make modern life modern."
The building emerged as a part of a 2015 town master plan that consolidated city services into a 14-acre site. While it's still in phase one of a multiyear process, the building has already solved a critical issue: Prior to its construction, Bulman says, maintenance sites were spread across the city in poorly maintained buildings, which often meant that parts of their community were cut off from maintenance services. Placing the new facility in this location allows service vehicles to reach all parts of the city—and being sandwiched between a public park and the Terry Trueblood Recreation Area has allowed the facility to become a venue for community gatherings. From the new facility, people and services flow both in and outward.
The project includes myriad sustainability tech components that elevated the facilities building to an anticipated LEED Gold certification, as well as adaptive "readiness" features that can withstand major flooding from the nearby river. More impressive still is that the new facility cuts the "deadhead" time for maintenance operators to commute to and from the facility—a form of care for the careworkers.
Attending to issues of care—who does it and who receives it—creates a feedback loop of nuanced "social grammars" critical to understanding contemporary racism and grappling with building justice into our environments, writes philosopher Olúfémi Táíwò in his book, Reconsidering Reparations (Oxford University Press, 2022).
"Our habits of thought and action also feed back into our material reality: The patterns of care, concern, and attention that we learn in our mundane interactions ultimately explain which sorts of bodies are taken into account when a building is designed," Táíwò writes. And, responding to environmental catastrophe "requires a working epistemic infrastructure: robust networks of knowledge and trust." Trust, as a function of historic decisions that prioritize care and attention for certain groups over others, must be established to properly attend to the climate crisis in a way that prioritizes justice for marginalized groups.
This type of trust-building comes into play at the Boston Public Library's Roxbury branch revitalization by local firm Utile. Located in the historically Black Roxbury neighborhood, the library was a part of Boston's great lineage of Brutalist public buildings. While the building's extensive use of glass brick created a thermal bridge, requiring a total overhaul using a timber curtain wall, the primary focus for the public project was to reconnect the library with the community.
Michael LeBlanc, AIA, a principal at Utile, characterizes the original building as "introverted." "We were striving to make it an extrovert," he says. As a library constructed after the civil unrest of the late 1960s, the building was meant to create a "quiet urban retreat"—a bit too successfully, LeBlanc says. As a result, LeBlanc recalls how then-Mayor Martin J. Walsh, who grew up visiting that branch, called it "the only public library in America constructed without a front door."
"It just demonstrates that this building was not communicating well with its community, that it was not engaging its community in the proper way," LeBlanc says. "That became the driving design agenda behind this whole project: to present a real and meaningful connective front porch to the community." Library patrons can now look outward onto the plaza's expanded footprint (made possible by the renovation), and those enjoying the plaza out front can see the library's activities inside.
The resulting adaptive-reuse project dramatically lowered the excessive energy costs required to heat and cool the building—LeBlanc noted that Boston's iconic Brutalist city hall building was the highest per-capita energy user in the city, and that the Roxbury branch was not "too far behind"—but it also made space for the neighborhood's desires for public art and expanded programming. And, the library now hosts a nutrition lab: a space dedicated to teaching residents how to prepare nutritious meals on a time and financial budget. The renovation also made the library more accessible to users of all abilities.
Several other notable COTE-awardees include two projects in San Francisco: the Lick-Wilmerding High School renovation and expansion project by local firm EHDD, which retrofits a public school known for its commitment to student community service, and the Edwin M. Lee Apartments by local Leddy Maytum Stacy Architects. Though not a public design project, the complex provides 62 apartments for formerly homeless veterans and 57 apartments for low-income families. These projects tout myriad sustainable features and strategies for climate mitigation, but at their core, the most exceptional projects provide a basis of care. The challenge is not about embracing new technological features for sustainability but is instead about communicating to the public how climate mitigation and care should be overlapping endeavors. Then, when the public will bends toward issue areas like equity or inclusion, sustainability becomes an integral part of those public demands.
Arathi Gowda, AIA—a principal of ZGF Architects' Project Performance Team, COTE leader, and a steering member of US Architects Declare—has struggled to make connections between various AIA groups working in, and between, sustainability and equity. At an August national committee meeting that brought DEI groups, COTE, and 2030 Committees together, Gowda found some frustration in what seemed like ships passing in the night.
"The DEI team came totally focused on the education track. And the 2030 team came out talking straight about carbon," Gowda says. "To me, any critique of all of this work just has to say that people are well intentioned, but we have a weak flank in the industry: We are not connecting these things." Much of the trouble, she continues, comes from the siloing of design professions—some designers focus on sustainability while others focus on community engagement—which can lead to what she calls "community-washing," or the practice of measuring successful community engagement through, for example, the number of public meetings held and walkability scores versus a deeper dive into community tensions, barriers to public meeting attendance, and the distribution of power to those who live in the project's neighborhood. With little connection between sustainability and care, project "successes" get reduced to the COTE spreadsheet measurements.
"The community measurements aren't as developed, using walk scores versus informing or partnership or actual citizen control, which is what it should be like in actual dialogue with communities," she says.
What this can lead to is a public perception that community life is disconnected from climate-resilient design. Walkability, for example, is a measurable sustainability metric, but it can also increase public safety à la Jane Jacobs' "eyes on the street" and social cohesion that generates trust. The Iowa Public Works building might manage water sustainably and reduce driving time for diesel-fuel vehicles, but it also reconnects residents with critical city services, allowing them to build greater trust with city management. Framing sustainability through care allows designers to focus their efforts on the most climate-vulnerable groups and communities, while also relieving the measurability-heavy burdens of public demand for resilient infrastructure. Sustainability, then, becomes a loop of care, repair, and resilience—rather than a simple series of metrics made possible through building features.
In some ways, the COTE Top Ten Awards is a flawed system for recognizing sustainability in design. But those flaws are not always the result of failures from within the industry. Without large-scale mandates demanded by residents, supported by public funds, and enforced with political teeth, sustainability will remain relegated to features, tech, and innovation. As Michelle Addington, dean of the University of Texas at Austin School of Architecture recently told me, "one of the things—and this is about our profession writ large—is that we really like the types of sustainable solutions that don't require us to do anything really different."
Perhaps the impetus for doing something different must begin with a new lens—not the Greenzo-ification of sustainability, nor an endless showcase of technologies, but the pursuit of compassionate care in our work toward building a more resilient future for everyone.
This article first appeared in the September 2022 issue of ARCHITECT.