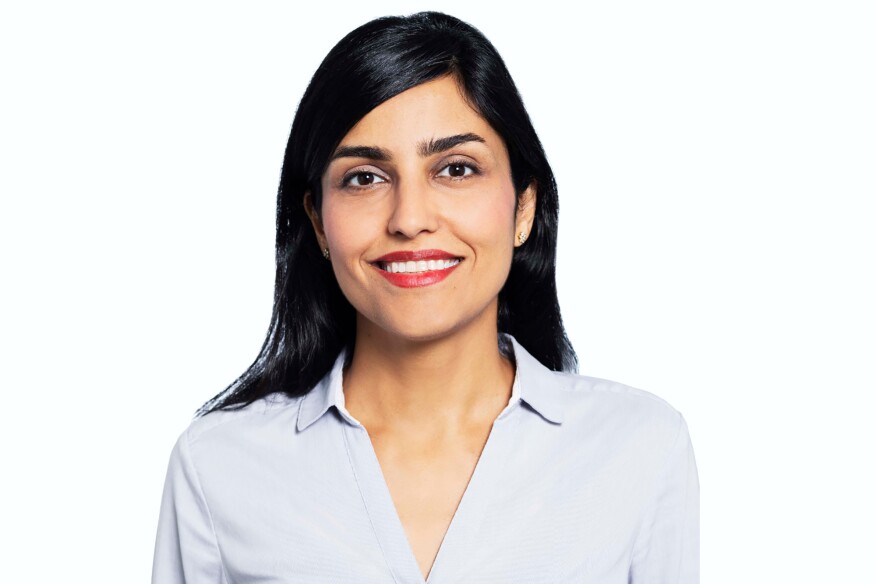 For ARCHITECT's September issue, we talked with Boston-based expert Sadaf Jafari about sustainable design. Here, Jafari—the director of sustainability at SGA—shares her insight.
What does your role entail?
As SGA's Director of Sustainable Design, my role is that of a trusted advisor to clients seeking guidance on their institutional approach to sustainability. Whether a small-scale fit-out, or a campus-wide master plan. With the ability to navigate the unique landscape of diverse industries like life sciences, academic, and workplace it is my responsibility to leverage analytics and experience to educate our clients on a range of custom-fit solutions. With a shared vision of success, we are then able to collaboratively identify those that best support their unique objectives at scale.
Consistently advancing the firm's approach to sustainability across the services we provide and the commercial markets we support, I am always working to strengthen a community of conscious creators. I am passionate about discovering new ways to grow the collective knowledge within our offices and practice groups. Ensuring that every employee is on an equal playing field when it comes to sustainability, and that they are equipped with the tools and skill sets required to achieve success in the arena. For me, the ultimate goal is for every designer I encounter to carry sustainable principles in mind as a baseline. To design in no other way.
How has the definition of sustainability evolved throughout your career?
It is important to give ourselves some credit. As an industry and society, we have made great strides. From the simple introduction of 'recycling' as a concept, to modern 'material passports' charting the unique life cycles of every individual element; amazing work has been and continues to be completed. Entire organizations like the U.S. Green Building Council, PHIUS, Urban Land Institute, LBC, WELL, and countless others exist for the sole purpose of promoting sustainability throughout the built world.
Of course, we cannot rest on these laurels. The development of consumer technologies continues to far outpace the progress we see in construction methodologies. The speed of sustainable advancement must continue to accelerate as we race toward goals like the AIA 2030 Commitment and broader Net Zero by 2050 objectives. Setting new standards and goals as our industry strives for environmental excellence.
The definition of and targets for sustainability are always pushing forward. For many years, the focus has been on carbon. While an important aspect to anchor our actions, it is vital we put additional pressure on other equally pressing facets like water and waste management.
It is our responsibility to ensure that in pursuit of decreasing operational carbon, we do not increase embodied carbon through material use. We should not sacrifice other goals to accomplish one. There should be an inherent synergy between all sustainable objectives and solutions.
What's your approach to sustainability?
To me, sustainability is no fancy word or special add-on. In the way that I believe every building should be structurally sound, I believe that every building should be designed with inherently sustainable principles. It is not an option, but rather a responsibility.
My approach to sustainability begins with empathy for communities and for individuals. From the very beginning of a project's process, it is important to align a team's goals for sustainability. Ensuring that client, architect, engineer, contractor, and community have their sights set on a shared vision of success. Establishing the metrics and a baseline for the advancements we hope to achieve.
At SGA, we partner with consultants to leverage sustainable design planning, feasible renewable energy analysis, energy usage evaluation, and carbon emissions data to ensure a holistic comprehension of your institution's carbon goals. From there, we collaborate to assess embodied carbon and life cycle costs alongside electrification strategies. SGA defines operational carbon emission, at an early stage, to best identify long term targets, solutions to achieve them, and their associated costs.
A thorough evaluation of site conditions is paramount during the earliest stages of planning. Building orientation, shading considerations, and glazing are vital to the energy performance for both cooling and heating systems. At SGA, we empower industry-leading engineers and consultants to deploy parametric iterations of your project that evaluate energy performance, natural ventilation, occupant thermal comfort, daylight, glare, and view to optimize performance from schematic concepts through construction.
Passionate about enabling clients who seek to be on the cutting-edge of sustainable solutions, SGA has designed two of New England's first passive house projects, the first Mass Timber office building in New England, and more than 2.6 million square feet of Net Zero (or Net Zero Ready) development. Our team maintains an active working knowledge of the most up-to-date technologies and materials available to us. Frequently engaging in conceptual studies to highlight real world potential.
At SGA, we believe that the value of a sustainably designed building extends far beyond the minimized (or eliminated) carbon footprint and its high-performance systems. These efforts are equally imperative to the human experience; providing occupants with a healthy, comfortable, equitable environment.
What role do architects and designers play in ensuring a sustainable future?
As designers, it is our responsibility to advocate for the natural world as much as we do for the built one. Working to reduce our impact on the environment is crucial, whether or not a project plans to pursue accreditation. Maintaining an up-to-date working knowledge of tools, trends, and technologies allows a designer to better educate clients and end users about the importance of sustainable design. For instance, regardless of a project team's intent to earn Living Building Challenge Petals, a deep comprehension of the organization's Red List positions designers to better inform clients about quality and composition during the materials selection process. Sharing a multifaceted point of view about benefits to both the natural environment and human health strengthens a designer's ability to advocate for both.
Based on your observations, what are the biggest obstacles facing sustainable development?
One of the biggest obstacles facing sustainable development today is the perceived cost associated with its design, construction, and maintenance. While the initial investment might be slightly higher, operational costs are frequently reduced enough to recoup the additional investment as savings. There are many cost-neutral solutions that an experienced design team is able to implement alongside their environmentally-motivated clients. However, it is important for a project team to help clients see value in sustainable design work beyond the dollar sign.
It is important for governments and authorities all around the world to unite. Deploying meaningful legislation that not only incentivizes sustainable development, but restricts unsustainable work. The market continues to show preference toward increasingly sustainable products and processes; continuously unveiling more cost-neutral solutions. Global political policy has the power to open the floodgates on innovative solutions that exceed the more traditional in both sustainable impact and budget adherence.
What's an innovation or vein of research that you are particularly proud of?
Right now, I am particularly interested in the vein of sustainable master planning. How design professionals can work to bolster an academic campus, corporate park, or entire community's commitment to sustainability with a well-rounded action plan. The work here goes beyond the traditional considerations of an individual building's sustainable objectives and leverages a series of structures as resources for one another. If the northeasternmost building will take a majority of the site's sun exposure, can it be fitted with enough photovoltaics and transformers to power the other six structures on the property, and then give some back to the community?
*working with groups like academic institutions and large commercial institutions seeking long-term solutions for asset development strategies.
I am also particularly interested in studying each of the high-performance envelopes the industry continues to advance due to benefits around lower energy usage. It is important to compare these operational benefits to the quantity of embodied carbon they encapsulate.
I believe one of the most important matters is to uncover renewable products, processes, materials, and energy sources that involve less embodied carbon. It will be important to implement more research to find an optimal amount of thermal insulation correlating with desirable energy savings potential.
What's a project by another group or individual that you think is pushing the boundaries of sustainable design?
As part of Copenhagen's commitment to becoming the world's first carbon-neutral city, CopenHill [completed by Bjarke Ingels Group in 2019] assists in bringing sustainability to the forefront of [the locale's] public perception by integrating an innovative waste-to-energy center into the community fabric through placing a fully functional ski slope on top of the facility. Additionally, the project team created space for experiential sustainability education and an urban recreation center to further activate the site as a sustainable landmark, allowing generations of residents and tourists to participate in dialogue around the monumentality of its impact and importance. To me, education that develops our collective knowledge around sustainability is just as important as actively designing with these principles and objectives in mind. What really makes a sustainable execution stand out is its ability to excite and engage the public. What can we do through design to inspire others to take environmentally minded action? CopenHill is a particularly energetic example of the ways in which sustainable design limitlessly improves the human experience.
What research are you following right now? (What's an example of a research project by a group or an individual that's informing your practice?)
Research into statistics around net zero and net zero-ready development from Built Environment Plus continues to be an important indicator of our industry's overall success in the fight toward neutrality. It is inspiring to see the broad range of clients, designers, and contractors completing this crucial work. Metrics like these enable our team to track its progress against competitors and collaborators in the space. This research is important to keep design groups on pace with this vital evolution.
What's the most pressing issue in sustainability right now?
Climate change is widely accepted as the biggest challenge of our age. The most pressing issue in sustainability today is addressing global warming and water crises. While there is undeniable value in every asset of a sustainability plan, it is imperative we address the carbon and water crisis with an immediate deadline. To do so, we must seek out solutions for the built environment that not only reduce, but eliminate and recapture carbon emissions and gray and black water. The scientific research to produce technologies and ever-evolving building codes that support its use are essential to achieving these goals.
If you had to recommend one book or text on sustainability/sustainable design, what would it be and why?
In addition to the highly-technical, data-driven research and studies we reference in our daily work, it is important to curate a holistic approach to your practice by garnering valuable insight and inspiration from a wide range of resources. Knowledge in areas that may seem as trivial as how and what can be recycled pair with sustainability narratives to further advance support for your efforts and ideas. You never know exactly where your next innovation will stem from.
While seemingly unrelated to the AEC industry, the book The Tyranny of Merit by Michael Sandel (Farrar, Straus and Giroux, 2020), weaves an impactful narrative about facts around the meritocratic ideal. Explaining how it is not a remedy for inequality; but rather a justification of inequality. Sandel asks pivotal questions about meritocracy and how today, the countries with the highest mobility tend to be those with the greatest equality. This has been a predominant philosophy in my life and one of the main reasons I became interested in sustainability about 20 years ago. Sustainability, in the correct format, is a viable way to provide equality in society at a global scale.
How do we teach the next generation of designers and architects about sustainability?
There is something to be said about younger generations and their almost inherent passion for the environment. Many millennials and all of Gen Z especially have grown up not knowing a world without the idea of climate change. The issue for the next generation of designers isn't education about the problem itself but about ensuring equitable and inclusive access to knowledge about solutions by making space for diverse individuals to pursue education and careers in the field and then inspiring the innovation they will in no doubt lead throughout the field for years to come.
An abbreviated version of this article first appeared in the September 2023 issue of ARCHITECT.