An online search will reveal no shortage of software for the production and administration aspects of architecture and construction. However, it is the creative, idea-formulating process that interests the team of architects, academics, and programmers behind the Morpholio 2.0 app. "This is the area where most people still remain analog," says Toru Hasegawa, one of the Morpholio Project's co-creators. "It's messy, nonlinear, and very random—it's somewhat like how the brain works."
The second version of the app, released in late April, combines seven digital design tools. The bundle includes both new and refined existing tools from Morpholio's first version, which has been downloaded about 100,000 times since its debut in December 2011. What began as an app for hosting virtual portfolios and crits has become a "Swiss Army knife" for designers in a range of creative industries, including architecture, photography, fashion, graphic design, and tattoo artistry, Hasegawa says.
The Portfolio tool, the app's foundation, turns user work into a virtual, customizable book for viewing, sharing, and presenting. Image collections can be shared among collaborators on their respective portfolios.
The improved Eyetime feature captures and records how much time each image receives—a level of information that reveals more than simply user clicks, for better or worse.
Crit is a virtual space that simulates what can be a cringe worthy, but rewarding, process of user feedback. An unlimited number of participants, from studio mates to friends and consultants, can participate in invited sessions. Whereas Crit allowed only commenting in the previous app version, users can now sketch ideas and commentary using the Trace tool.

As the digital version of architects' go-to roll of onion paper, Trace is now incorporated into the Crit process. The tool, also available as a standalone app, allows users to write and sketch on top of imported images.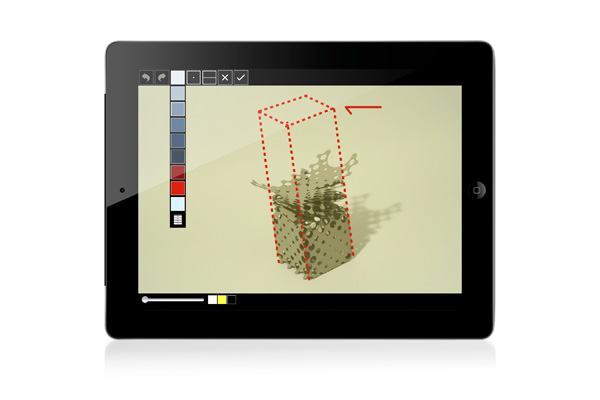 When Trace first launched, users could only make mark-ups in red or black colors. Though the Morpholio creators were initially adamant that Trace not become an illustration tool, they also were open to comments from other design communities that follow a different industry standard of mark-up colors. Morpholio now offers 17 Palettes of color combinations, including the ability to make mark-ups using dashed lines.
Pinup, a carryover tool, allows users to post and view work in virtual galleries curated by both the public and the Morpholio Project team. Though users can comment on others' work, follow others, and allow others to follow them, Pinup is more than a social media tool. "It's more like following your favorite artists," Hasegawa says. "Pinup becomes an extension of your brain where you can tap into great ideas from others as a starting point."

Printables, the seventh tool, addresses a frequent shortcoming in mobile apps. Generally speaking, Hasegawa says, "there is not an easy way to just print." Printables allows users to print their own work or a work from a critique in which they're involved using a variety of common print formats and sizes, with a PDF file as the output. Users with a wireless-enabled printer can print straight from their mobile device without a middleman—in this case, a computer. Simplicity, Hasegawa says, is key to Morpholio's success. "For us, these amazing tools won't matter if people won't adopt them."

Users can download Morpholio from the iTunes app store for free. In-app purchases include Palettes—each set of industry colors cost $0.99—and Printables, for which users can purchase units ranging from $0.99 to $2.99. The app is compatible with iPhone, iPod Touch, and iPad devices that run on iOS 4.3 or later.
All images courtesy Morpholio