Beloved ARCHITECT Readers,
The news that both Robert Venturi, FAIA, and Denise Scott Brown, Hon. FAIA, won this year's AIA Gold Medal jolted the conversation surrounding diversity within architecture. Not only was it the first for working partners to jointly receive it, but Scott Brown is the first woman to receive it in her lifetime. But even with those historical feats, the duo proved to be no match for modernist master Richard Neutra, who beat the famous postmodernist team by a surprising 10 percent margin.
Completed yesterday, the first round of our #ArchMadness2016 featured the 32 most recent AIA Gold Medal winners, with the most recent winners pitted against the earliest winners. As with last year's contest, it's you who ultimately decides who wins each contest, and over the past few days, over 500 of you voted and provided some insightful outcomes. Italian architect Renzo Piano, Hon. FAIA, for instance, ended up beating Arkansas' E. Fay Jones, the winner of last year's edition of Arch Madness, by a large margin (70-30). See the rest of the first round's results here, and scroll down to vote in the next round.
And now is time for you to vote on the architectural Sweet Sixteen! Click on each matchup to learn more about the architects, and from there you can also check out our past coverage of each and explore each's dedicated firm page. To vote, click on your preferred architect's picture in each round. The polls for this round close at 11:59 pm EST on Wednesday, March 23. And then check back on Thursday to see who made it into the Elite Eight and vote on who should make it to the Final Four!
Select an architect to learn more and to vote!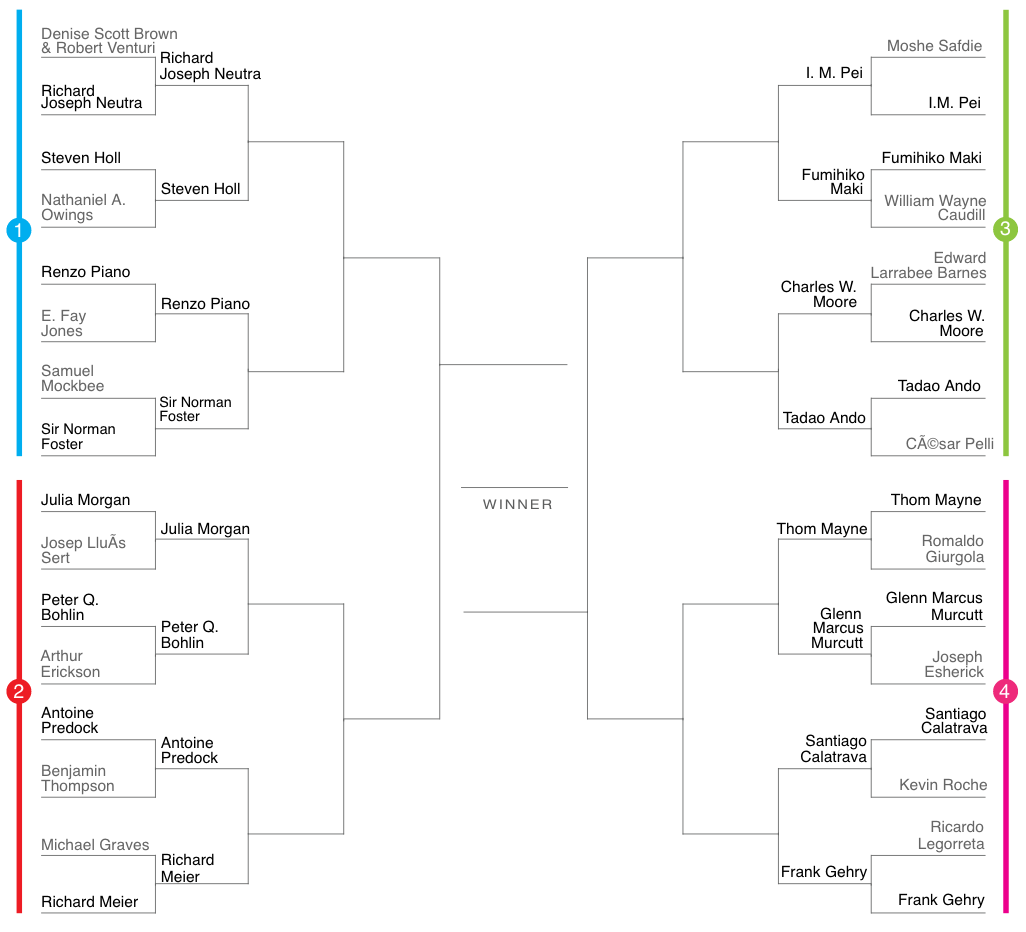 GROUP 1
GROUP 2
GROUP 3
GROUP 4
Surprised by the results or upset that your favorite architect has been knocked out? Let us know on Twitter using the hashtag #ArchMadness2016.