Dear ARCHITECT Readers,
Last year, we asked you to choose the best work of architecture from a pool of the 32 most recent winners of the AIA Twenty-Five Year Award. More than 3,600 of you voted and, after five rounds of intense competition, chose Thorncrown Chapel, by Frank Lloyd Wright disciple E. Fay Jones in Eureka Springs, Ark., as the winner. This year, we're putting the spotlight on the architects behind many of the projects in last year's bracket as 32 of the most recent AIA Gold Medal winners go head-to-head for your vote.
If there's a time to showcase the chops of the most respected architects in the design world, it's now. This year, the AIA awarded the postmodernist power duo Denise Scott Brown, Hon. FAIA, and Robert Venturi, AIA, the Institute's highest honor with the Gold Medal Award. This comes after a long-fought battle by Scott Brown to receive the same recognition as her husband and co-collaborator. She was snubbed on Venturi's 1991 Pritzker win, which the committee decided not to review and amend in 2013 following a petition on her behalf by the Harvard University Graduate School of Design's Women in Design Group. She spoke with ARCHITECT that year about her work in the field and experience as a woman in architecture. This year's AIA Gold Medal represents a first on two fronts: Scott Brown and Venturi are the first set of partners to jointly receive the award, and Brown is the first woman to receive this honor in her lifetime (early-20th century architect Julia Morgan won it posthumously in 2013. She died in 1957.).
To play, read about the architects featured in each matchup and place your vote by clicking on the photo of your preferred architect. When each round closes, we will update the bracket with the architects that are advancing to the next stage. We used chronology to determine our initial pairings, if, say, you're wondering why I.M. Pei, FAIA, is going up against Moshe Safdie, FAIA. From oldest to most recent, we met in the middle, and then stacked each competitor in alternating brackets.
Round One closes on Sunday, March 20, at 11:59 p.m. EST. We'll post the results on Monday and will launch Round Two with the remaining 16 contenders.
Select an architect to learn more and to vote!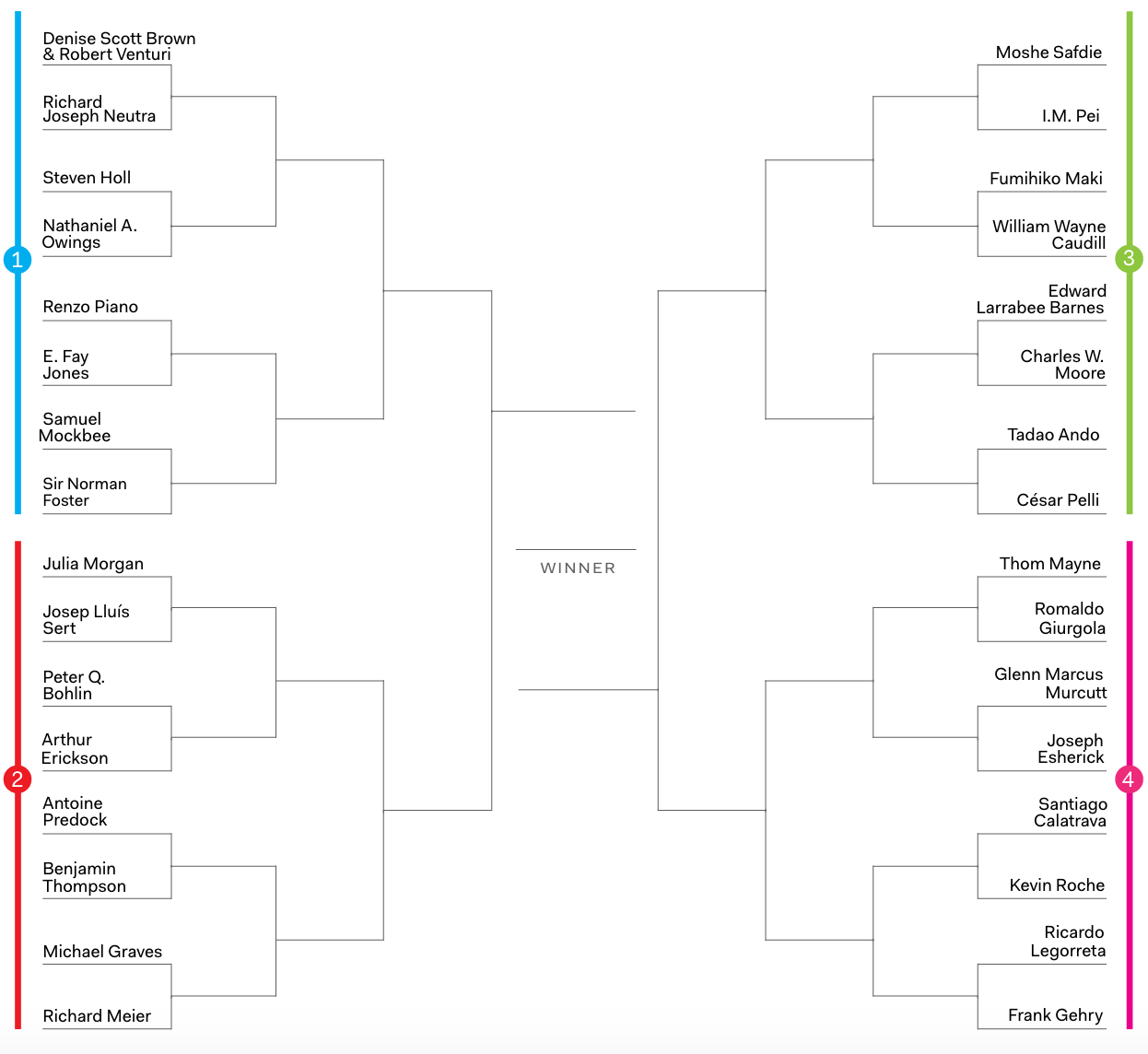 GROUP 1
GROUP 2
GROUP 3
GROUP 4
Surprised by the results or upset that your favorite architect has been knocked out? Let us know on Twitter using the hashtag #ArchMadness2016.
Voting is closed for Round One. To vote in Round Two, go here.>>