This week, we have a stunning house looking out over the edge of the world in Mexico, additions to schools and businesses for when we can go back and use them, lots of big beautiful houses to quarantine in, and more great architecture projects all contributed by some great architecture firms for your perusal and pleasure. You see, in addition to the projects we choose to give more detailed coverage to, we are also very thankful for the architecture firms who share their projects with us each and every day. The Project Gallery is a user-generated portion of our site where firms upload their latest projects for you to enjoy. So far, we have well above 14,000 projects, making it a wealth of great design information.
In this space, each week, we'll try to give thanks to the firms who share their work with us, by sharing a handful of the coolest new projects to join the gallery with you.
Casa Ambar, in Cabo San Lucas, Mexico, by Centerbrook Architects and Planners
"The house is sustainable with indigenous masonry construction of concrete and block, all covered in white stucco. This reflects the intense heat on the outside while maintaining cooler temperatures within through the thermal storage of the heavy mass and earth behind."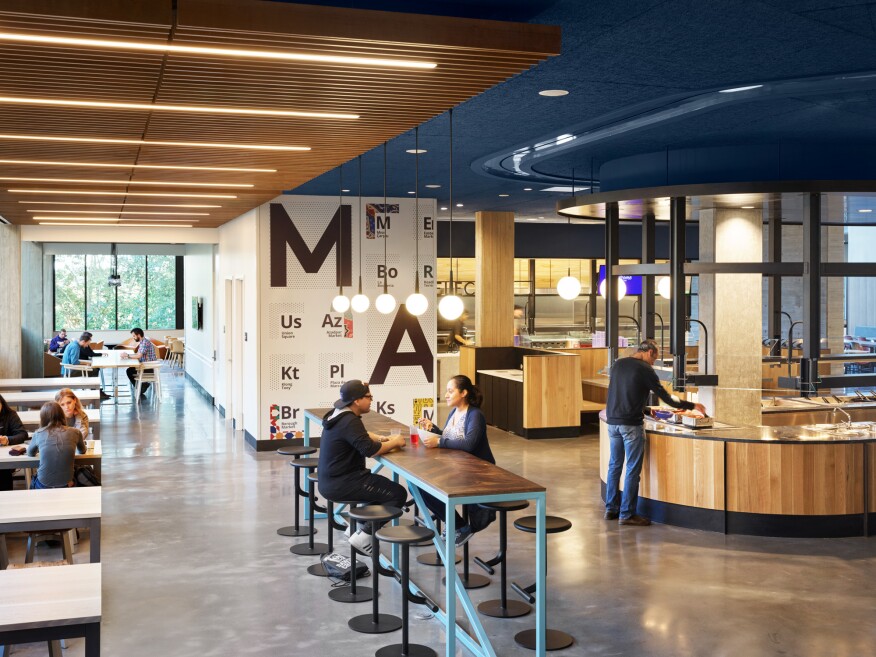 Center Table at UW North Campus for the University of Washington, in Seattle, by Graham Baba Architects
This dining facility for UDub "was once an aging, dated facility is now a new contemporary food service and communal living center. With an adaptable design and materials and furnishings built for longevity, the complex is destined to be enjoyed for decades."
Oak Woodland Residence, in San Francisco, by Walker Warner Architects
"By completely reworking the site and blending the clients' traditional and modern tastes, the design team created an evocative new home that's nestled into the woods. Utilizing clean lines and a pared-down palette of cedar, metal, and concrete, the two-story residence borders an open space preserve."
Google Cloud Tech Corners, Phase I, in Sunnyvale, Calif., by Blitz
The firm "redesigned 37 new collaborative spaces within the 420,000-square-foot Google Cloud campus, located adjacent to the historic Moffett Federal Airfield. Acting as central hubs for innovation and cross-departmental collaboration, the refreshed lounge spaces boast visual connections between open workstations, access to daylight, and unrestricted views across the floors to foster teamwork."
Water Island, on a Fire Island barrier island off Long Island, N.Y., by Rodman Paul Architects
"Two modest beach bungalows were relocated on the site and rebuilt along a striking boardwalk which floats above the beach brush, connecting the Great South Bay to the Atlantic Ocean."
Frangipani, in Kolkata, India, by Salient
These enormous 42,300-square-foot split villas were designed "to integrate with their surroundings. ... The green areas seamlessly blend with the built forms perceived as part of an inclusive design process."
Halo, in Dublin, Ohio, by CO-G
This "part salon, part clinic, part school, developed as a space for women and girls coping with cancer and the cosmetic effects of chemotherapy" is one of the projects featured from Boston-based CO-G, the architecture firm for this month's Next Progressives series.
Elsewhere Hudson Valley, in Livingston, N.Y., by WOJR
This "dreamily named" Award winner in our 67th annual Progressive Architecture Awards is a "complex of six free-standing guesthouses and an entry pavilion. ... The solution is an exercise in rural urbanism—each of the structures is quite close to its neighbors, with privacy protected by diverting views rather than increasing distance." Learn about all of the 2020 P/A Awards winners here.
Want to see your firm's work in this space in the future? Sign up for an account with our Project Gallery, add your firm, and upload your projects. Just go to the home page for the gallery and click on Create a Project.