Today, New York City's Cooper Hewitt Smithsonian Design Museum announced the winners of its 2018 National Design Awards. Launched in 2000, the annual awards program "celebrates design as a vital humanistic tool in shaping the world, and seeks to increase national awareness of the impact of design through education initiatives," according to the museum's press release. The Cooper Hewitt's jury recognizes outstanding individuals and firms in 10 categories, ranging from architecture to communication and fashion design, plus an 11th Director's Award that is selected by the museum. The 2018 award recipients will be honored on Oct. 18 at Cooper Hewitt's Arthur Ross Terrace and Garden.
"All 10 of this year's winners present a powerful design perspective and body of work that is at once inclusive and deeply personal, accompanied by great achievement, humanity, and social impact," said museum director Caroline Baumann in the same release. "I am excited to share our winners with the world at large as we chart an ambitious path for our most prominent educational initiative that further elevates Cooper Hewitt as a national platform for design. These inspiring men and women will be joining us in classrooms and communities throughout the U.S. to help us raise awareness of the power of design to improve our lives."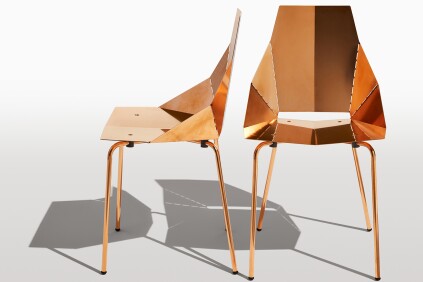 This year's winners are: New York–based graphic designer Gail Anderson (for Lifetime Achievement); Anne Whiston Spirn, a Cambridge, Mass.–based author, landscape architect, and MIT's Cecil and Ida Green distinguished professor of landscape architecture and planning (for Design Mind); Evanston, Ill.–based Design for America (for Corporate & Institutional Achievement); New York City–based architecture firm Weiss/Manfredi (for Architecture Design); Seattle-based design practice Civilization (for Communication Design); Los Angeles–based fashion designer Christina Kim (for Fashion Design); Cambridge, Mass.–based architect, designer, and inventor Neri Oxman (for Interaction Design); Miami architecture firm Oppenheim Architecture + Design (for Interior Design); Boston-based landscape architecture firm Mikyoung Kim Design (for Landscape Architecture); and Minneapolis-based furniture design company Blu Dot (for Product Design).
The Director's Award will be chosen "at a later date" by Baumann.
This year's jury comprised Diane Jones Allen, principal landscape architect at New Orleans–based Design Jones; Jeffrey Bernett, principal at New York–based Consultants for Design Strategy; San Francisco–based designer Valerie Casey; Rand Elliott, FAIA, principal at Elliott + Associates Architects in Oklahoma City; Adi Gil, co-founder and creative director at New York–based fashion company ThreeAsFour; Jenny Lam, senior vice president of user experience design at Oracle in Seattle; Doug Powell, design principal at IBM in Austin; and Ann Willoughby, founder of Kansas City, Mo.– and San Francisco–based design firm Willoughby Design.
In last year's edition, architects MASS Design Group and Deborah Berke Partners received awards.