Ayşe Yılmaz was 20 years old when she made her first material prototype from tangerine peels. "I was always very enthusiastic about design," she says. But she was disenchanted with conventional approaches that often created a detachment from nature. Instead, Yılmaz began creating small artifacts such as jewelry and light fixtures from cabbage, flowers, leaves—and yes, tangerine peels. After making a series of bespoke objects, Yılmaz aspired to make these bio-based products available to a broader audience. So she founded Ottan Studio, an Istanbul-based boutique design and fabrication firm that upcycles biowaste into new materials. "In Istanbul and big cities like this, [I thought] there must have been a lot of people who longed for nature as I do, so I developed a method to bring nature into more people's lives," she says.
In 2015, Ehab Sayed was pursuing his masters in integrated product design at Brunel University in London when he conducted an in-depth examination of the United Kingdom's waste streams to understand how they were being generated. He began to direct his focus on the source of the largest and most environmentally significant stream: the construction industry. "I found that the reasons why waste was being generated were not necessarily financial or technological, but rather perceptual," he says, referring to the industry's entrenched habits around resource use. In response, Sayed founded Biohm, a London-based bio-manufacturing company that develops bio-based building materials and circular construction systems.
Both Yılmaz and Sayed are part of a growing group of designers who are generating bold environmental solutions in the form of novel, regenerative building products. Today, many traditional manufacturers are attempting to improve the ecological footprint of their offerings, often through incremental measures. But entrepreneurs like Yılmaz and Sayed, along with boutique firms like Aduro Biopolymers, Ananas Anam, Chip(s) Board, and Leoxx, are redefining traditional manufacturing materials and processes entirely.
In the case of Ottan Studio, Yilmaz is making furnishings and decorative items out of ingredients most manufacturers overlook. At a time when the conversation around the use of biomaterials is centered around wood, the studio purposefully avoids a resource it considers vulnerable. "Imagine fallen leaves on the streets … by using those leaves or pruned branches, we can save a 50-year old tree that would otherwise be cut down to create the new product," Yilmaz said in a company press release. The firm's raw material feedstocks are named after their sources, such as "Autumn Leaf" or "Bean Peel," and they retain their original colors. Current applications include furniture, lighting, decorative surfaces and objects, and even automotive components.
As for Sayed, he has developed an alternative building product called Triagomy, an interlocking biocomposite panel that he began developing as a student. Composed of environmentally benign ingredients that can be readily recycled, Triagomy was inspired by the way carbon molecules bind to one another to create structures that can be reconfigured or disassembled. "Triagomy is specifically designed to widely enable the use of bio-based materials that may not have the structural strength of materials like steel and concrete. Taking inspiration from the way carbon molecules bond to one another, the system's components follow a mathematical code that allows load to be evenly distributed throughout the building's structure," says Sayed. Biohm claims that the bio-based Triagomy panels exhibit up to a 120 percent reduction in environmental impact compared with traditional materials such as concrete. Furthermore, the panels are designed for deconstruction—thus minimizing demolition waste. Biohm has also created products using orb—short for organic refuse bio-compound—which is made from food waste; and has developed an insulating panel called mycelium, which is composed of fungal filaments.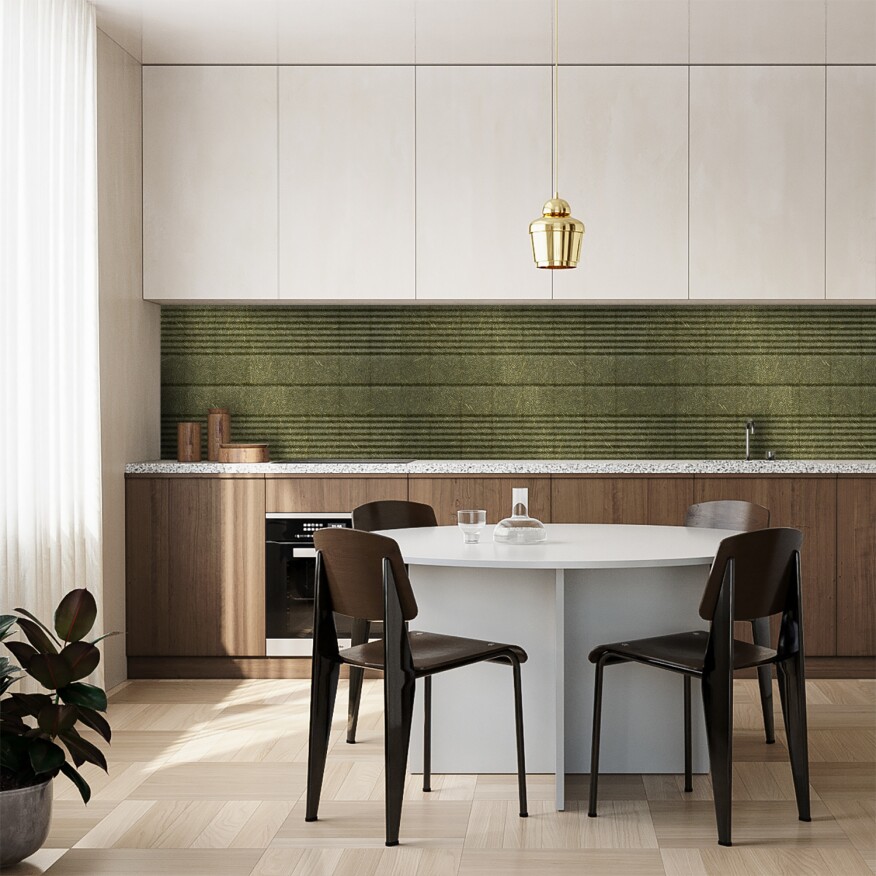 Manufacturing products using bio-waste does pose some challenges. One restriction is that the waste must be used before it decays. The material must be delivered fresh, and moisture must be entirely removed before it is further processed. The timing is key. "If waste streams are managed appropriately from the point at which they are being generated, the foul smell and the decay becomes a non-problem," says Sayed. "Current processes and a disassociation of value with our waste streams are what results in this preconception"—namely, that biowaste can't be repurposed.
Creating robust agro-industrial partnerships can create reliable sources of fresh feedstock. Biohm receives its materials from grain mills, hemp and flax farmers, and landscaping companies, not to mention restaurants, coffee roasters, and various commercial entities. Ottan Studio collaborates with local food production companies and municipalities. "Also," says Yilmaz, "we have a partner who is a social scale-up, working with other food producers all around the country and doing the transport of the food waste to the people who need it. Thus, we can ensure a sustainable supply of almost two dozen different types of food and garden waste."
These partnerships are critical for expanding production. Ottan Studio is currently in a pilot phase, focusing on research and development while offering a few products commercially. In six months, the company will outsource production to a factory-scale contract manufacturer, which will increase its capacity 15 times over. Biohm is currently launching its first production facility, capable of 3,000 square meters of material output per month, and anticipates reaching 18,000 square meters per month in two years. At this level of operation, Biohm will utilize 240 metric tons of waste and sequester 30 metric tons of carbon per month—in addition to providing over 30 local jobs.
Ultimately, these bio-waste startups aim to do more than demonstrate effective environmental stewardship; they also seek to transform material flows and applications in fundamental ways. According to Sayed: "The ultimate aim and what all of our products offer is a method of enabling the life-cycle of a resource to stretch infinitely, much like in nature." Adds Yılmaz: "We don't dig the mountains, destroy the forests and spend excessive energy to process the raw materials."