This week, we're sharing projects from Potsdam, Germany, to Nur-Sultan, Kazakhstan, and from Los Angeles to Sydney, with several stops in between. In addition to the projects that we give more detailed coverage, we like to highlight some of the work that architecture firms share with us every day through the Project Gallery—the user-generated portion of our site. So far, we have more than 14,000 projects, most of which were directly uploaded by firms to share with us and our readers.
In this weekly roundup, we showcase some of the coolest new projects to be added to the gallery—thanks to architects like you.
Marion Anderson Hall, UCLA Anderson School of Management
Los Angeles
Pei Cobb Freed & Partners
"This addition to the original Anderson School complex creates a bold campus presence that reimagines UCLA's traditional four-color blended brick and buff-colored cast-stone masonry banding. Transforming a condition long considered an unsightly barrier between the school and the core campus, the design sites the building atop an existing parking structure east of the original complex, framing a new pedestrian plaza and cascading grand stair to the south. The result is a new primary entrance to the school that also serves as a dramatic gateway to UCLA's North Campus."
The Promenade on Forest
Laguna Beach, Calif.
SWA Group
"As cities across the United States start to reopen more businesses in a time of COVID-19, the City of Laguna Beach, CA, has collaborated with SWA Group, internationally renowned landscape and urban design firm, to transform its famous Forest Avenue in the heart of the city's downtown. SWA Group designed a kit-of-parts that enable the city to transform the street into The Promenade on Forest – a new pandemic-age plaza that literally turns the business community inside out."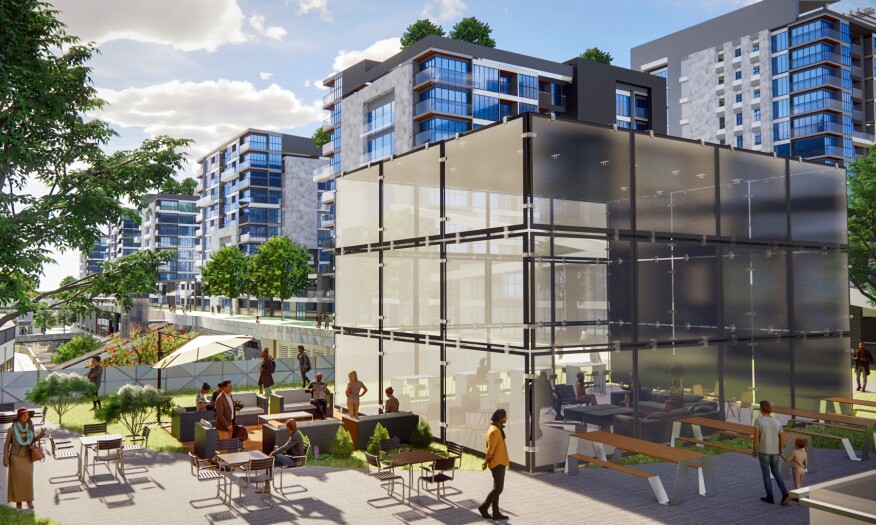 Ambarlar Mixed Use Development
Istanbul
inPLACE Design
"Streets and urban plaza spaces are designed to handle an array of activities and special events. There is a network of lush green spaces of grand and intimate scale – which serve as recreational "urban oasis." The synergy of buildings and spaces is to be brought together in an authentic way – so the experience will not be of a "developer project" but that of a true "city center." Ambarlar is conceived to become one of the Istanbul's premiere new destinations for visitors and locals alike."
The Green Line Light Rail Transit
Minneapolis and St. Paul, Minn.
AECOM, 4RM+ULA
"The Green Line Light Rail Transit (LRT) is the second link in light rail transit for the Minneapolis and Saint Paul area. The eleven-mile line runs along one of the region's most heavily traveled corridors and will connect downtown Minneapolis, downtown Saint Paul, the University of Minnesota, the State Capitol, the Midway area, and a number of diverse neighborhoods along University Avenue."
Jungfernsee Elementary School
Potsdam, Germany
SEHW Architektur
"Schools have developed into all-day and inclusive learning and living spaces. The new schools need spatial concepts that can be used flexibly. For this purpose, the big school is divided into several small organisational units, the small schools or clusters. This organisation in clusters makes it possible to create semi-autonomous social-spatial units in large schools, which are manageable for pupils and teachers and allow a sense of home to develop. These pedagogical objectives lead to new architectural requirements. Architecture becomes a pedagogue."
Tulip City - Astana World Expo Site redevelopment
Nur-Sultan, Kazakhstan
Fundamental Architects
"Tulip City is designed as an attractive go-to location at the heart of mono-functional, newly-built residential developments. It organically directs the flow of pedestrians from the main avenue's park towards an internal, hidden courtyard, where in the comfort of climatized atriums, people can enjoy the winter garden, use co-working and meeting facilities, and do necessary shopping. The curved lines of the podium mimic the organic language of the key Expo building that is located nearby. Internal streets formed by the plinth are filled with trees, wooden terraces, and mirror pools with fountains which create a much-needed getaway oasis in the area."
Atlassian Sydney Headquarters
Sydney
SHoP Architects and BVN Architecture
"Atlassian has announced plans to build the world's tallest hybrid timber building for its new headquarters in the tech precinct at Central Station. The new building will be home to thousands of technology workers when complete in 2025. After an extensive global search, Atlassian has chosen New York-based architects SHoP, and Australian practice BVN as the design team. The groundbreaking design of timber, with a glass and steel facade will include a mix of outdoor and indoor spaces and will use an energy-efficient approach that features natural ventilation and large planted terraces giving access to nature. The building will be approximately 40 stories high. The existing YHA at the site will be revitalized and incorporated into the lower levels of the new building. The existing heritage parcel shed will also be incorporated into the development."
Etsy Headquarters
New York
Gensler
Gensler helped the online marketplace platform Etsy renovate its headquarters in Brooklyn, creating the largest Living Building Challenge Petal-Certified building in New York City. For the project, which won a 2020 AIA COTE Top Ten Award, Gensler transformed an existing 200,000-square-foot industrial space, thoughtfully integrating Etsy's offices into the existing community fabric. The COVID-19 pandemic will mean open offices will need to look a little different going forward, but that's a challenge that the firm is ready for: This week, experts from Gensler, DLR Group, T3 Advisors, and ZGF, weighed in on how the pandemic might shape the future of office design.
Want to see your firm's work highlighted here? Sign up for an account with our Project Gallery, add your firm, and upload your projects. Go to the home page for the gallery and click on Create a Project. We can't wait to see what you're working on!